Tuesday, April 17, 2012
SU IT Earns 'Models of Efficiency' Honor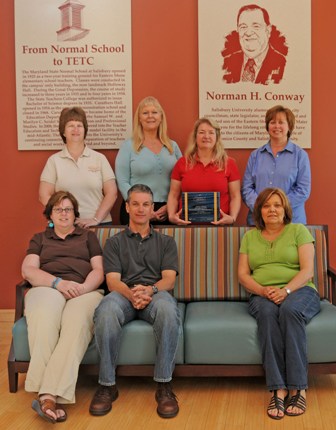 Top row, from left: Terri Stuck, Karen Bowden, Jeanette Wolinski and Joanna O'Neal. Bottom row, from left: Melody Baker, Mike Boolukos and Patti Turpin.
SALISBURY, MD---Salisbury University is one of 16 colleges and universities nationwide honored as a "Model of Efficiency" in April's University Business magazine.
The spring 2012 program recognizes innovative approaches for streamlining higher education operations through technology or business process improvements.
SU is the only Maryland campus among the 16. Other honorees include George Mason University, George Washington University, Texas A&M University and the University of Virginia.
"Efficient business operations translate into better experiences for students and administrators alike," said Tim Goral, editor-in-chief of University Business. "Salisbury University stands out for developing a very effective solution to a challenging situation."
After purchasing an enterprise resource planning system, SU staffers found gaps in areas such as course evaluation, residence life management, student health records and athletic reporting. Salisbury's tech team, working with offices across campus, developed solutions that were both easier and more economical than other alternatives and was able to create programs that were compatible.
Teamwork saved Salisbury more than $20,000 a year in direct maintenance costs. Data are collected more consistently and the system is easier to use. "Saving money was the icing on the cake," says Chief Information Officer Jerome Waldron. "The primary driver was functionality."
In the process of creating new software, the IT Department digitized forms, helping to save paper at a University already known for its sustainable practices.
The "Models of Efficiency" program is sponsored by Higher One, a technology and payment services company founded in 2000 on a college campus. "The creativity, tenacity, and determination demonstrated by 'Models of Efficiency' winners are inspiring to us in the private sector," said Dean Hatton, Higher One CEO.
About University Business
University Business is the leading publication for senior managers at colleges and universities throughout the United States, reaching 48,000 leaders. For more information, visit www.universitybusiness.com.