Tuesday, December 5, 2006
SU Honors Senator Paul S. Sarbanes at Commencement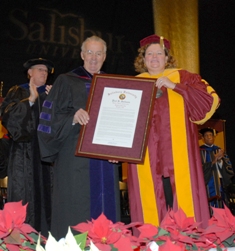 Senator Paul S. Sarbanes, left, received an honorary Doctor of Laws from SU President Janet Dudley-Eshbach during Winter Commencement
SALISBURY, MD---Salisbury University recently paid tribute to one of Maryland's most venerable leaders as U.S. Senator Paul S. Sarbanes received an honorary Doctor of Laws during its 81st year Winter Commencement. He joined 457 students who received 65 master's and 392 bachelor's degrees.
He has been called "the classic example of the American dream." Born in Salisbury, the son of Greek immigrants, Sarbanes grew from his humble Eastern Shore roots to become one of the most acclaimed legislators in United States history. His 30 years with the U.S. Senate is slated to end with his retirement in early 2007.
The eldest son of Greek immigrants Spyros and Matina Sarbanes, the senator was born in Salisbury in 1933. Attending public school in Wicomico County, Sarbanes earned his bachelor's degree from Princeton University and continued his education at Oxford University as a Rhodes Scholar. In 1960, he graduated from Harvard Law School and was admitted to the Maryland bar.
He began his law career in Baltimore, where he first took an interest in public service. His remarkable political career began with his election to the Maryland House of Delegates in 1967, followed by the U.S. House of Representatives in 1970 and the U.S. Senate in 1976.
In 2000, he became the first Maryland senator to win a fifth term in office. When he steps down next month, he will do so as Maryland's longest-serving U.S. senator. That is not a coincidence. His thoughtfulness and quiet strength have shown through many times during his service in public office.
As a junior member of the House Judiciary Committee in 1974, he was asked to draft the first article of impeachment for President Richard Nixon. After two days of committee debate, Article I of the impeachment, now known as "the Sarbanes Substitute," was approved in a surprisingly bipartisan vote.
He also has been a national leader on civil rights, supporting every major bill to assure these rights are protected. The senator was an original composer of the Americans with Disabilities Act. He has sponsored legislation to prevent the rollback of existing civil rights laws, to strengthen sexual harassment laws and to protect the rights of consumers. He also introduced the Thurgood Marshall Legal Education Opportunity Program, which provides disadvantaged college students with the financial assistance necessary for law school.
Closer to home, he has been engaged in the protection and restoration of the Chesapeake Bay, serving as a primary architect of every major piece of legislation designed to improve the bay. This includes the creation of the Chesapeake Bay Program in 1987.
More recently, when a series of corporate scandals threatened to undermine public trust in the American free enterprise system, he stepped up to offer the corporate reform known as the Sarbanes-Oxley Act. The act passed unanimously, a clear tribute to the senator's wisdom, legislative skills and bipartisan approach.
His strong support of the Eastern Shore and SU is also noteworthy. He has obtained funding for the Nursing Department to expand its education opportunities and for the Franklin P. Perdue School of Business to establish its international business curriculum.
In 2002, he established the Paul S. Sarbanes Lecture Series within SU's Institute for Public Affairs and Civic Engagement. The series has brought to campus such renowned speakers as Indiana Senator Richard Lugar, Georgia Congressman John Lewis and House Speaker Nancy Pelosi of California, making it one of the University's most anticipated events each spring.

For more information call 410-543-6030 or visit the SU Web site at www.salisbury.edu.