Monday, December 4, 2006
SU President Janet Dudley-Eshbach Leads AASCU Roundtable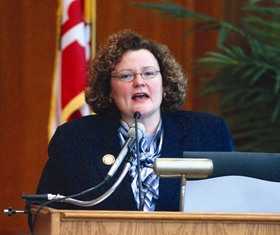 SALISBURY, MD---Salisbury University President Janet Dudley-Eshbach recently led a roundtable discussion on changes in the undergraduate curriculum during the American Association of State Colleges and Universities' annual meeting.
The discussion followed a presentation on "Transformational Leadership for the Public University—Rising Expectations" by University System of Maryland Chancellor William E. Kirwan and Grambling State University President Horace A. Judson.
AASCU's presidential roundtables offer college and university presidents an opportunity to address critical issues facing AASCU campuses. Roundtables focus on strategies to maximize success and showcase examples of what is working and why from a presidential perspective. Dudley-Eshbach's discussion was titled "Adapting the Undergraduate Curriculum to Changing Student Demographics."
Earlier this year, Dudley-Eshbach also led a seminar for woman presidents at AASCU's Summer Council.
For more information call 410-543-6030 or visit the SU Web site at www.salisbury.edu.