Friday, April 5, 2013
SU Commemorates Holocaust Days of Remembrance April 7-14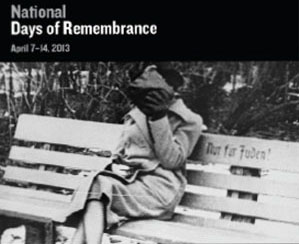 SALISBURY, MD---In commemoration of Yom Hashoa, the National Days of Remembrance, the Eastern Shore Writing Project at Salisbury University sponsors two displays honoring and remembering victims of the Holocaust April 7-14.
The first floor of SU's Teacher Education and Technology Center (TETC) features the exhibit "Never Again: Heeding the Warning Signs," a 14-image display depicting the historical events that led to the Holocaust. On the second floor, "Remember Me Always: the Holocaust in Books for Young Readers" is showcased outside TETC Room 278.
"The 2013 Days of Remembrance is an opportunity to look back 75 years, when momentous changes were occurring in Europe, and to examine the responses of citizens and countries to the signs of impending war and the Holocaust," said U.S. Holocaust Memorial Museum Director Sara Bloomfield. "The dangers of indifference remain with us, and understanding and acting on the lessons of what happened then are vitally important today."
Congress established the Days of Remembrance as the nation's annual commemoration of the Holocaust, led by the U.S. Holocaust Memorial Museum in Washington, D.C.
Admission to the SU displays is free and the public is invited. For more information e-mail Dr. Diana Wagner of the Education Specialties Department at dmwagner@salisbury.edu.