Wednesday, October 3, 2007
SU Celebrates Homecoming 2007 October 19-21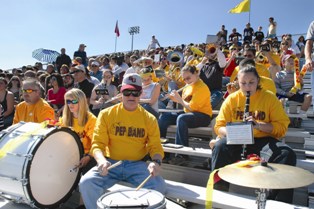 SALISBURY, MD---From a student-led block party to a new alumni humanities series, Salisbury University's 2007 Homecoming Weekend is packed with excitement.
Events begin Friday, October 19. Daytime highlights include a Varsity Club-sponsored golf tournament 10 a.m. at Nutters Crossing Golf Course and a powderpuff football game sponsored by the Residence Hall Association at 3:30 p.m. on the Holloway Hall Lawn.
The SU Athletics Hall of Fame inducts five new members from the Class of 1997 during its annual banquet 6 p.m. in the Wicomico Room of the Guerrieri University Center. They are: All-American lacrosse captain Jake Bergey, all-conference softball and volleyball player Jen Bowman, All-American field hockey player Sue Fatz Mancha, Division III men's lacrosse defenseman of the year Chris McQueeney and all-Capital Athletic Conference soccer player Matt Tirschman. Admission is $30, $25 for past inductees. Pre-registration is required.
History faculty Don Whaley inaugurates a new Homecoming event 7-9 p.m. in Fulton Hall Room 111 with the second installment of the Alumni Humanities Series. Whaley's talk is "From Odysseus to Oliver Stone, Jim Morrison and Camille Paglia: The Cultural History of Adventure." The two-part seminar continues 10 a.m.-2 p.m. Saturday, October 20. Admission is $50, including lunch. To register visit http://alumni.salisbury.edu.
Activities continue at 7 p.m. in Caruthers Hall Auditorium with a free showing of Harry Potter and the Order of the Phoenix, sponsored by the Student Office for Activity Planning (SOAP). The film is also shown 10 p.m. Saturday, October 20, and 7 and 10 p.m. Sunday, October 21. Comedian Matt Fulchiron closes out Friday's activities with a free performance in Holloway Hall Auditorium at 9 p.m.
The Alumni House and Miller Garden are open for visits from 9 a.m.-2 p.m. Saturday, October 20. An open house at the Geography and Geosciences Department is 10 a.m.-noon.
The Bellavance Honors Center hosts a free continental breakfast for honors students, alumni and guests from 9-11 a.m. Families and alumni also are invited to the multiethnic alumni brunch from 9 a.m.-1 p.m. in the Bistro of the Commons. Cost is $7.85, $4.05 for children 6-11, free for children 5 and under.
The Student Government Association hosts a Homecoming Block Party noon-6 p.m. on Wayne Street at the Intramural Fields. The community is invited to enjoy games and other activities, as well as inflatables provided by SOAP.
The Sea Gulls take on Becker College during this year's Homecoming football game at 1 p.m. Admission is $5, $3 for non-SU students, $2 for children 12 and under. SU ID holders receive one ticket free. The Office of Alumni Relations and Annual Giving sponsors a hospitality tent from noon-4 p.m. at Sea Gull Stadium. SU's soccer teams are also home that day, playing Hood College—men's at 1 p.m., women's at 2 p.m.
The Untouchables Dance Club performs in Henson Plaza from 4-4:30 p.m. as sports fans make their way back to main campus. The Center for International Education (1106 Camden Ave.) holds a reception for international and study abroad alumni from 4-6 p.m. The Multicultural Student Services Office hosts a post-game jazz social in the Gull's Nest of the Guerrieri University Center from 4-7 p.m.
University Dining Services and the Cultural Affairs Office sponsor an Oktoberfest dinner in the Commons from 5:30-7:30 p.m. Admission is $9.30, $5.72 for children ages 6-11, free for children 5 and under.
Admission to all events is free unless otherwise noted. Special invitations are required to participate in some reunion events. For more information call 410-543-6042 or 410-543-6100, or visit the SU Web site at www.salisbury.edu.