Tuesday, October 4, 2011
SU Celebrates Family Weekend 2011 October 7-9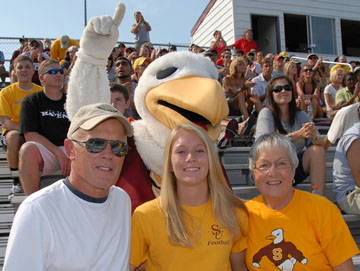 SALISBURY, MD---From tours and talks to special dining and athletic events, Salisbury University celebrates Family Weekend 2011 from Friday-Sunday, October 7-9.
Activities begin Friday with a chance to visit open classrooms, tours of SU's new Perdue Hall and kayaking on the Manokin River. Classes range from "The History of Theatre" to "Calculus I," "Information Systems Concepts" and "Introduction to Athletic Training." Other special events include a Yom Kippur dinner from 5-8 p.m. in the Commons. (Please note that SU does not have a kosher kitchen.) Cost is $10.88, $6.60 children ages 5 and under.
Saturday's big events begin as SU football takes on Springfield College at noon at Sea Gull Stadium. Admission is $5, $3 for non-SU students, $2 for children ages 12 and under. SU ID holders receive one ticket free. Family members may purchase discount tickets for $3 at the Guerrieri University Center Information Desk until 11 a.m. on game day.
Other athletics highlights for the day include women's soccer vs. York College (PA) at 1 p.m. and men's soccer vs. The College of New Jersey at 2 p.m., both at the SU Soccer Complex.
The University holds a festive ribbon-cutting for the grand opening of its newest and largest residence hall, Sea Gull Square, at 2:30 p.m. The Parents and Family Association hosts an ice cream social from 3:30-5 p.m. at the Sea Gull Square Pavilion.
At 5 p.m., SU celebrates its 2011 NCAA Division III championship men's lacrosse team with a ring ceremony in Holloway Hall Auditorium.
The Theatre and Dance Department presents a performance of David Willinger's Andrea's Got Two Boyfriends during the annual Recipes From Home Dinner at 6:30 p.m. in the Commons. The play is Willinger's tribute to his developmentally challenged sister.
Saturday events conclude with a show by magician Derek Hughes at 8 p.m. in Holloway Hall Auditorium, sponsored by the Student Organization for Activity Planning. Hughes has appeared in movies including Mr. Deeds and Corky Romano, as well as the TV show CSI: New York.
Sunday activities begin with the annual Family Weekend Challenge, a parent-student golf outing at 10 a.m. at Nutters Crossing Golf Course. Registration is $80 per two-person team, and pre-registration is required. To register visit http://alumni.salisbury.edu/events/event_details.asp?id=172203.
A jazz brunch featuring the band Slim DeNunn and the High Rollers is 11 a.m.-1 p.m. Sunday in the Commons. Admission is $8.73, $4.49 for children 5 and under.
For a full schedule of Family Weekend events, visit http://www.salisbury.edu/parents/familyweekend/docs/Family_Weekend_Bro_2011print.pdf or http://www.salisbury.edu/parents/familyweekend/schedule2011.html.
For more information call 410-543-6080 or visit the Family Weekend Web site at www.salisbury.edu/parents/familyweekend.