Tuesday, November 24, 2015
SU Bernstein, Ratcliffe Winner Impresses at Eastern Shore Business Competition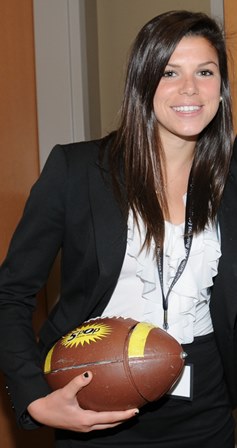 SALISBURY, MD---Salisbury University junior finance major Jenna DeLetto of Long Island, NY, continues to impress entrepreneurship competition judges throughout the region.

The winner of the $10,000 Richard A. Bernstein Achievement Award for Excellence during this year's SU Student Entrepreneurship Competitions and a $15,000 award from the University's Philip E. and Carole R. Ratcliffe Foundation Shore Hatchery competition recently received and additional $20,000 through the Eastern Shore Business Competition.

With her grandfather, DeLetto is the co-creator of the 5POP electronic football trainer. The football-shaped device uses patented technology to sound an alarm when players carrying it do not correctly use the recommended five points of pressure (or POP): fingers, palm, forearm, bicep and torso. Still in the prototyping and development stage, it already has seen interest from college coaches at Penn State and elsewhere, as well as corporations including Under Armour.

According to William Burke, entrepreneurship competition coordinator in SU's Franklin P. Perdue School of Business, the University is especially well equipped to assist students like DeLetto with product innovation. Resources in the Perdue School include an innovation center, 3-D printing and prototyping instruction. Classes in these areas, such as one offered by Dr. Gene Hahn in the Information and Decision Sciences Department, quickly fill up during registration.

SU also offers entrepreneurial resources for non-students. Four out of the five competitors in the final round of the Eastern Shore Business Competition, recently held at the TEDCO Entrepreneur Expo in Linthicum, MD, were past winners of the Ratcliffe Shore Hatchery. In addition to 5POP, they included:

• Badjo-T Industries - Inspired by video games and anime, the principals of this company design and manufacture custom, high-tech suits for live-action role playing.

• Kitchology - This app will provide substitution suggestions in recipes for diners seeking to lose weight or managing dietary restrictions.

• Operation Precision Systems, LLC - This company is developing a cloud-based drinking water quality monitoring and management service, with an eye toward expanding into air quality, ground quality and waste management monitoring.

For more information call 410-543-6030 or visit the SU website at www.salisbury.edu.