Monday, November 23, 2015
SU Students Take First, Second at DMAWEF MAXI Competition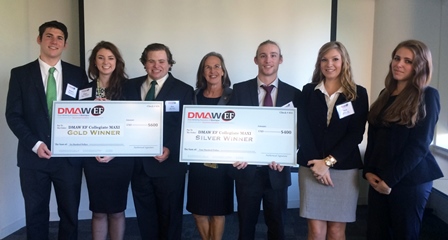 SALISBURY, MD---Salisbury University students recently proved themselves among the best marketers in the region, taking the top two spots in the Direct Marketing Association of Washington Education Foundation (DMAWEF)'s annual Collegiate MAXI Award Program.

In the oral competition, SU's teams vied against American University, James Madison University and King's College, PA, to create the top marketing plan for one of three participating non-profit organizations.

The winning team, comprised of Ben Bouma of Millersville, MD; Justin Lee of Frederick, MD; Eliot Tarash of Columbia, MD; and Megan Zurkowski of Hollywood, MD, mounted a fundraising campaign for the Central Park Conservancy, which relies on grants and donations for its annual budget to maintain the New York park.

Their three-pronged plan, "Leaf It to Us to Grow Your Roots," called for a Vine online video campaign to attract millennials, staying in touch with active donors via text-to-donate opportunities and Meetup groups, and strengthening member relations via email, projecting a campaign income of over $1 million.

The second-place team, comprised of Haylie Parks of St. Mary's City, MD; Dana Seaman of Centreville, MD; and Bryan Wolf of Brookeville, MD, developed a unique fund- and friend-raising campaign for Shriners Children's Hospital.

Seeking to increase awareness and shore up the organization's donor base, the team proposed a "Box to the Rescue" plan, targeting millennial mothers (roughly ages 24-24) via a Facebook campaign for a subscription to a neonatal care box, which would be mailed at regular intervals.

Not only would a percentage of the proceeds go toward the hospital, but subscribers would be enticed to sign up for multimedia messages showing examples of how their donations were used, enticing additional contributions.

"Some of the judges had not even heard of subscription boxes," said team advisor Paula Morris of the Management and Marketing Department in SU's Franklin P. Perdue School of Business.

She credited the students' success to a comprehensive battery of classes, stressing not only the creative side of marketing, but the analytical "numbers" side, as well.

"They use everything they learn to solve these real-world problems," she said. "They're winning these competitions, then they're walking into jobs."

She cited at least 15 examples of students who started their careers with the DMAW or one of the event's sponsors after impressing judges at the MAXI competition.

The SU teams at this year's contest walked away with a total of $1,000 in prizes — $600 for first place and $400 for second.

The non-profits they studied benefited, as well. Not only did they receive new marketing ideas as a result of the presentations, but the students decided to donate 10 percent of their winnings to the two organizations.

For more information call 410-543-6030 or visit the SU website at www.salisbury.edu.