Wednesday, September 10, 2014
SU Art Galleries Presents 'Work. Respect. Dignity.'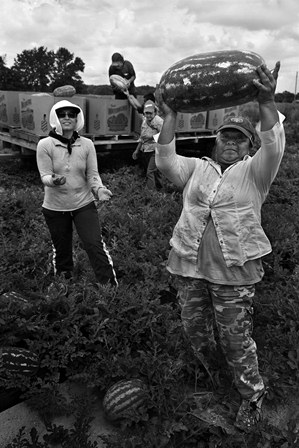 SALISBURY, MD---Immigration is a hot topic in the media on a near-daily basis … but the stories of immigrants themselves seldom receive as much attention.
Pictures help share some of these tales during the Salisbury University Art Galleries exhibit "Work. Respect. Dignity. Shared Images and Stories of Maryland's Eastern Shore Immigrants: An Exhibition of Photographs by Earl Dotter and the Migrant Clinicians Network."
The photos are displayed August 27-October 25 at the SU Art Galleries — Downtown Campus. A reception is 6 p.m. Thursday, September 18. Light refreshments will be served.
A panel discussion follows at 7 p.m. Panelists include Dotter; Dr. Louise Detwiler, SU professor of modern languages and intercultural studies; Dr. Tim Dunn, SU professor of sociology; Dr. Casper Bendixsen, National Farm Medicine Center cultural anthropologist; and Parra Manrique, an immigrant, photo subject, longtime Salisbury resident and parent. Amy Liebman, director of environmental and occupational health for the Migrant Clinicians Network, moderates. The panel discussion is at Remedy Church, on the third floor of the City Center, 213 W. Main St.
An award-winning photojournalist, Dotter partnered with the Migrant Clinicians Network to capture the rhythm and lives of migrant workers in pictures. His images have appeared in publications including the Robert F. Kenned Book Award finalist The Quiet Sickness, and in exhibits at the Smithsonian Institution's National Portrait Gallery and U.S. Department of Labor headquarters, among others. Since 1999, he also has been a visiting scholar at Harvard University's School of Public Health.
In collaboration with the Migrant Clinicians Network and with support by the Maryland Humanities Council, the SU Art Galleries presents Dotter's photos with the goal of promoting civic engagement in the immigration discussion, and to explore the impact of immigration amidst settled communities and of migration on immigrants and their families, according to Elizabeth Kauffman, galleries director.
Gallery hours are noon-6 p.m. Wednesday-Friday, noon-4 p.m. Saturdays. Sponsored by SU Art Galleries, admission is free and the public is invited.
For more information visit the SU Art Galleries website at www.salisbury.edu/universitygalleries.