Wednesday, September 10, 2014
SU Alumna Interns with National Farm Medicine Center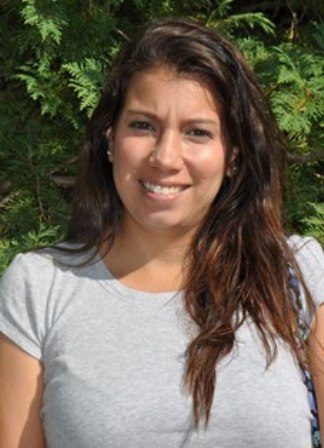 SALISBURY, MD---Recent Salisbury University alumna Ivanna Pereyra of Silver Spring, MD, spent her summer on the farm.
She didn't raise corn or soybeans or livestock, however. Instead, she raised awareness.
After earning her B.A. in sociology last May, Pereyra flew to Wisconsin to begin a three-month internship with the National Farm Medicine Center (NFMC) through the Association of Occupational and Environmental Clinics (AOEC). There, she visited dairy farms to help research culturally appropriate occupational safety and health training for immigrant dairy workers through a program called "Seguridad en las Lecherias" ("Security in the Dairies").
She learned about the opportunity while interning locally with the Migrant Clinicians Network, one of three organizations working together on the "Seguridad" project. Dr. Tim Dunn of SU's Sociology Department encouraged her to apply. She was one of just 34 interns accepted into the AOEC program — and one of only two at the NFMC — out of more than 400 applicants nationwide.
With an interest in public policy (which she hopes to study in graduate school), Pereyra said the experience was fascinating.
"I have very passionate motivation to create change," she said. "This internship really opened my eyes to the research behind policy decisions."
Along with Dunn, she credited several SU sociology faculty for giving her the skills she needed to successfully complete the internship. They included Drs. Allan Pappas, who helped her grasp sociology theories and explore multiple topics, and Diane Illig, whose Research Methods class Pereyra said was especially useful.
"In a grand research project, I knew what I was looking for," she said. "I knew what I was doing because of everything I learned in that class."
Following the internship, she plans to attend graduate school for public policy before entering the field in hopes of continuing to create social change.
For more information call 410-543-6030 or visit the SU website at www.salisbury.edu.