Tuesday, January 28, 2014
SU Art Galleries Presents 'Palette' January 29-February 21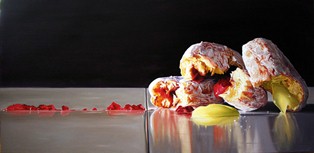 SALISBURY, MD---Art that looks good enough to eat? Absolutely.

Salisbury Art Galleries, Downtown Campus blurs the lines between dinner and art during the juried exhibit "Palette" January 29-February 21. The exhibit showcases 15 artists who use food as subject, material or content, from carefully contrived still-life paintings to slow, time-based videos of melting ice sculptures.

"It's often at the dinner table that we discuss the most difficult topics of our time," said Marisa Sage, SU Art Galleries manager. "Food is a neutral vehicle spawning intense debates surrounding gender, race, culture and other current political topics. As another form of muse, food has been the passion of internationally renowned artists throughout the ages who have used it to celebrate life within their paintings, sculptures, photographs and videos."

Local chefs add their own twist with their own food-based artworks during a one-night event on Friday, February 21. Held during the Salisbury Arts & Entertainment District's monthly Third Friday festivities, the evening includes a special ticketed tasting event from 5-7 p.m. The venue will be open to the public from 7-8 p.m. to view the chefs' creations.

Participating chefs include Whitney Davis, pastry chef at the Evolution Craft Brewing Company Public House; David Wells Jr.; Paul Suplee, assistant professor of culinary arts at Wor-Wic Community College; Patrick Fanning, owner/partner at Stoked and partner/chef at The High Spot, both in Cambridge, MD; Susan Weisengoff-Patt, owner and head baker at Cake Art; Kumi Suzuki, owner and head chef at Sushi De Kanpai; and Daniel Mears of Harmony of Taste in Salisbury.

Vendors at the event include home brewer Michael Piorunski, who offers a smoked stout beer pairing; Main Roots Coffee, which offers a coffee pairing; Shawn Kotwica, a local mixologist preparing innovative cocktails for the event; and Baywater Greens, providing micro greens for chefs.

Tasting tickets are $30 in advance, $35 at the door. Tickets may be purchase at any SU Art Galleries location or online at https://www.eventbrite.com/e/palette-tasting-event-tickets-10189000575.

Gallery hours are noon-6 p.m. Wednesday-Friday, noon-4 p.m. Saturday. Sponsored by SU Art Galleries, admission is free and the public is invited.

For more information about the exhibit, tasting tickets and participating chefs, call 410-548-2547 or e-mail Galleries Manager Marisa Sage at misage@salisbury.edu.

For more information about the gallery, visit the SU Art Galleries website at www.salisbury.edu/universitygalleries.