Wednesday, October 29, 2008
SU Alum Explores Science and Technology Policy November 6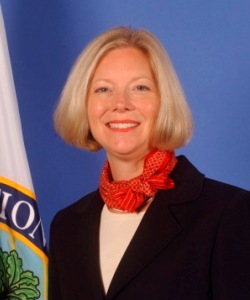 SALISBURY, MD---Salisbury University alumna Diane Auer Jones ('86) knows the importance of science and technology.
A molecular biologist and past U.S. assistant secretary for postsecondary education, she discusses "Science and Technology Policy: Stimulating Innovation and Ensuring Prosperity" on Thursday, November 6, at SU. Her talk is 7 p.m. in Henson Science Hall Room 103.
Jones is currently president and CEO of The Washington Campus, which provides comprehensive educational programs to help executives (and future leaders) understand how Washington really works, what issues are being debated and who holds decisive power at each step of the policy making process.
A Baltimore native, Jones graduated summa cum laude from SU with a B.S. degree in biology before earning her M.S. degree in applied molecular biology from the University of Maryland, Baltimore County.
"It was certainly my privilege and great joy to have Diane as my advisee and as a student in several of my classes," said Dr. Tom Jones, now Provost at SU. "She finished with a perfect 4.0 grade point average. Even more impressive than her GPA was her ability as an undergraduate to bring together disparate scientific information to solve problems in ways that I wouldn't have considered."
Prior to joining The Washington Campus, Jones served the Bush Administration in increasingly senior positions. In 2005, she worked in the Office of Science and Technology Policy, before being selected by President Bush to help lead the higher education division of the U.S. Department of Education. She was the principal policy advisor to the secretary on such issues as higher education accreditation and Federal student financial aid programs.
Before her work in the White House, Jones ran Princeton University's Office of Government Affairs. She also was a program officer at the National Science Foundation and helped shape science policy while working for the science committee of the U.S. House of Representatives during the 107th Congress.
Jones began her career at the Community College of Baltimore County (CCBC), as a biology professor and director of a Chesapeake Bay water quality lab. With National Science Foundation funding, she established CCBC's biotechnology institute to train high-skilled technicians for the burgeoning industry. In addition, Jones ventured into small business. She helped found and run three enterprises in the Baltimore area, including an environmental biotechnology company.
Jones lives in Catonsville, MD, with her husband, Dr. William Jones, a policy director at the Food and Drug Administration. They have two sons.
Sponsored by the Office of the Provost and the Henson School of Science and Technology, this talk is free and the public is invited. For more information call 410-543-6030 or visit the SU Web site at www.salisbury.edu.