Wednesday, October 29, 2008
'Much Ado About Nothing' Opens at SU November 13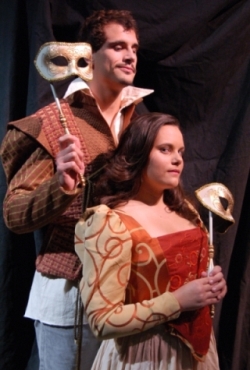 SALISBURY, MD---Salisbury University's Bobbi Biron Theatre programs enters a courtly world of masked revels and dances this fall with its production of one of Shakespeare's most famous and popular comedies: Much Ado About Nothing.
Directed by Dr. T. Paul Pfeiffer, performances are Thursday-Sunday, November 13-16 and 20-23 in the Black Box Theatre of Fulton Hall. Curtain is 8 p.m., except Sundays which is 2 p.m.
"Much Ado About Nothing is actually a much ado about a very great deal," said Pfeiffer, artistic director and faculty in SU's new Department of Theatre and Dance. "Shakespeare plays on the words 'nothing' and 'noting,' implying the contrast of emptiness versus observation. Ever the actor, he makes full use of performance by having characters 'play act.' Some are observant enough to 'note' the truth in others actions."
Set in the idyllic town of Messina, Italy, the play revolves around two pairs of young lovers: Claudio and Hero, whose marriage faces tricky obstacles due to schemes of villainy and deceit, and Beatrice and Benedick, whose love-hate relationship provides a hilarious counterplot. The New York Times describes it as "ravishing entertainment" with characters that remain as lively as when Shakespeare conceived them four centuries ago.
"Though a romantic comedy, this play is darker than most for its strong political undertones of the corrupting power of power itself," Pfeiffer said. "Notions of love and loyalty are bargaining chips for advancement to nearly every character. Almost all are opportunists and realists—not the cadre of characters one might expect."
Some 22 students and community members are part of the cast. Governor Leonato is played by Dave Pancyk and other members of his house include Hero, his daughter (Jennifer Webster); Beatrice, his niece (Becky Norris); Antonio, his brother (SU alumnus Tim Dykes); and attendants Margaret and Ursula (Jess Rivera and Haley Reff). The servants and musicians are Kelley Mundle (vocalist and percussion), Kerry Cettei (oboe/alto recorder), Jess Rivera (soprano recorder) and Elizabeth Mears (guitar).
Don Pedro, prince of Arragon, is played by Jimmy Savage and his followers are Claudio a young lord of Florence (B.J. Hoyle) and Benedick, a young lord of Padua (T. Griffin Jones). Don John, the bastard brother of Don Pedro is played by Mason Woods and his followers are Borachio (Kurt Auer) and Conrade (Michael Harding).
The local constabulary includes Sheriff Dogberry (Patrick Drengwitz); Deputy Verges (Paul Richardson); Watchman Seacole (Jennifer Manning); Watchman Oatcake (Mitchell Melton); and sexton (B.J. Hoyle). Friar Francis is Mitchell Melton.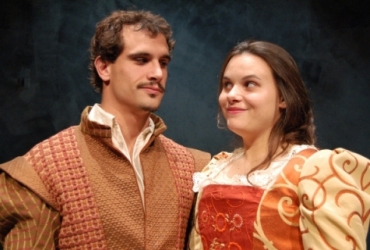 "I am enjoying this play very much because of the student actors and the mutual discoveries of rehearsal, but also because I am finding a great deal of depth and nuance," Pfeiffer said. "The play has resonances of the Catholic and Protestant contention in Shakespeare's London, which I find fascinating." He added that the production reveals something deeper and perhaps darker lurking beneath the surface of Shakespeare's work.
Recent Shakespeare productions at SU include The Merchant of Venice in 2005, Hamlet in 2003, A Midsummer Night's Dream in 2000 and Twelfth Night in 1998.
Much Ado About Nothing features sets by Dr. David Shuhy, costumes by Brandon McWilliams and lighting by Thomas Anderson, all of SU's Department of Theatre and Dance.
Tickets are $12, $10 for seniors. The public is invited. For tickets call the SU Box Office at 410-548-2985. For more information call 410-543-6229 or visit the SU Web site at www.salisbury.edu.