Wednesday, November 14, 2012
SU Actors Help Social Work Majors With Scenario Training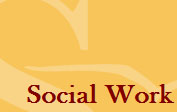 SALISBURY, MD---A group of hoarders. An anorexic. A date rape victim. A young man with a spinal injury. Sound like a recipe for a TV medical drama?

Close — but the actors in this "show" are playing to a very specific audience.

Since 2007, students in Salisbury University's Theatre and Dance Department have portrayed "standardized clients" in practice courses taught in SU's Social Work Department. The program, founded by Drs. Peg McGuire and Margo Kushner in Social Work and Dr. T. Paul Pfeiffer, now chair of Theatre and Dance, trains social work students to handle specific scenarios.

"Evaluations indicated that students who observed the simulations gained a great deal of knowledge about interviewing, and the actors gained experience which enhanced their résumés," said Kushner.

In fact, some of the acting students have parlayed the experience into paid positions beyond SU, providing similar services for medical school classes training future emergency room workers.

The actors continue to help provide experience for social work students at SU and at the University's satellite program at Chesapeake College in Wye Mills. In return, they receive a stipend for their services.

"This program is extremely beneficial to both sets of students," said Pfeiffer. "Our future social workers gain by the immediacy of the interaction. Our actors hone their skills at improvisation and realistic characterization through this intense and challenging experiential learning. We are very proud of this project and hope to be able to continue as long as the need is there."

Donations to continue the program are accepted year-round. For more information call 410-543-6030 or visit the SU Web site at www.salisbury.edu.