Friday, October 13, 2006
Renowned Violinist, Accordionist Perform November 2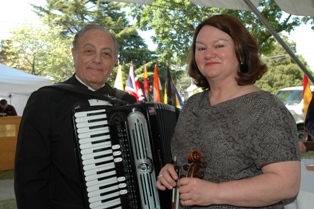 SALISBURY, MD---When she formed The Crystal Strings in 1982, violinist Stephanie Myers had little idea two decades later her group would have played for five presidents, performed at two Olympics and be named The Washingtonian magazine's top choice for string ensemble. Founder Myers also has performed at the Olympics in Seoul and Barcelona.
Myers and French musette accordionist Lou Coppola entertain diners as the duo L'Accorde Crystalle during Salisbury University Dining Services' French dinner from 5-7 p.m. Thursday, November 2, in the Bistro of the Commons.
The menu includes rosemary rotisserie chicken, coquille St. Jacques (scallops and shrimp), French beans in shallot butter, grilled steak Diane, red roasted potatoes, cassoulet vegan, spinach and herb soufflé, baguettes, croissants, chocolate mousse and French apple pie.
The cost of the meal is $9.30 plus tax for adults, $5.72 plus tax for children ages 6-12. Children under 5 dine free.
Sponsored by the Office of Cultural Affairs and University Dining Services, the public is invited. For more information call 410-219-2872.