Thursday, March 5, 2015
Ratcliffe Shore Hatchery Submissions Due Apr. 7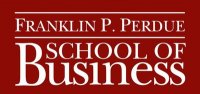 SALISBURY, MD---Applications are being accepted for the fourth round of funding through Salisbury University's Philip E. and Carole R. Ratcliffe Foundation Shore Hatchery entrepreneurship program beginning Friday, March 6.

Business startups throughout the mid-Atlantic are eligible to apply for their share of $125,000. Selected entrepreneurs will have the chance to present their proposals to the program's advisory board for consideration Thursday, May 7, at SU's Perdue Hall. The deadline for submissions is Tuesday, April 7.

During the first round, participants will pitch their business ideas to the board. Those chosen to move on to the second round will have the opportunity to make more in-depth presentations. Entrepreneurs selected for funding will be assigned seasoned business mentors to help guide their startup or expansion.

The Ratcliffe Shore Hatchery program is a $1 million, five-year initiative to assist entrepreneurs and help them create new jobs in the community. It is administered through SU's Franklin P. Perdue School of Business.

For application materials and more information visit https://www2.salisbury.edu/perdue/sh.