Friday, March 28, 2014
Pub Night @ the Library Celebrates Faculty and Staff Contributions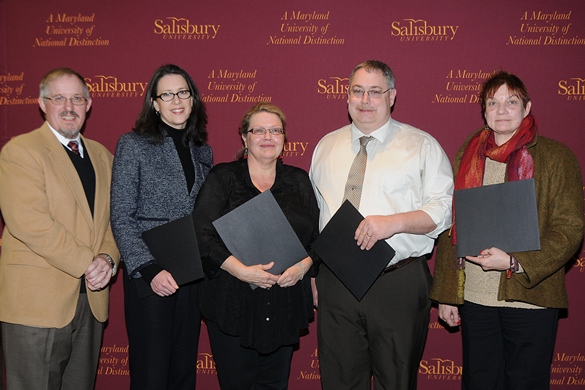 SALISBURY, MD---Salisbury University's third annual Pub Night @ the Library celebrated faculty and staff research, publications, creative works, scholarly achievements and academic service.

During the Blackwell Library event, President Janet Dudley-Eshbach thanked attendees. "You make our University's reputation grow with each passing year," she said. "Your scholarly and creative contributions are felt well beyond the local community."

The afternoon spotlighted those who have worked hard to achieve a significant number of small grants and awards.

"In the last 10 years, some 465 individual funding submissions have occurred and, as a result, have brought some $750,000 to SU," said Dr. Clifton Griffin, dean of graduate studies and research, applauding the time and effort that goes into each project application. "We want to celebrate our faculty and staff for their impact and achievements."

Griffin recognized five campus members who have secured seven or more small grants in recent years. They included June Krell-Salgado of the Cultural Affairs Office, as well as Drs. Danielle Cumming of the Music Department, Victoria Hutchinson of the Theatre and Dance Department, Bob Joyner of the Henson School Dean's Office and Health Sciences Department, and Judith Stribling of the Biological Sciences Department. Each received a certificate and gift card.

Dr. Beatriz Hardy, dean of libraries and instructional resources, also congratulated those in attendance for their research, service and other efforts above and beyond teaching.

Pictured (from left) are Griffin, Cumming, Krell-Salgado, Joyner and Hutchinson.

For more information call 410-543-6030 or visit the SU website at www.salisbury.edu.