Tuesday, April 1, 2014
'Dirty Energy Roadshow' Comes to SU Tuesday, April 1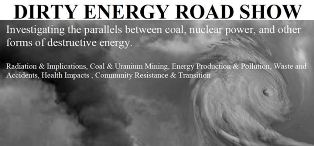 SALISBURY, MD---Environmental speaker Eric Blevins brings the "Dirty Energy Roadshow" to Salisbury University 7 p.m. Tuesday, April 1, in Henson Science Hall Room 103.
His presentation includes parallels between coal, nuclear and other forms of energy, and their risks and consequences at the local and global levels. He illustrates the topic with stories about the nuclear disaster in Fukushima, Japan, and mountain top removal for coal mining in Appalachia.
He also discusses how communities worldwide are fighting against polluting facilities through grassroots organizing, litigation and direct action.
Sponsored by the Environmental Student Association, admission is free and the public is invited. For more information call 410-543-6030 or visit the SU website at www.salisbury.edu.