Tuesday, March 8, 2011
Prize-Winning Student Essay Reflects on Study Abroad, Gelato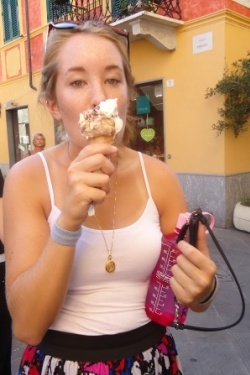 SALISBURY, MD---Studying abroad in Florence is much like Italian gelato, Salisbury University Junior Mary Dwyer recently explained in a prize-winning essay.
"I was not sure how I felt after my first bite," she wrote. "It left a strange aftertaste in my mouth and the texture was new to me. The same thing happened with the Italian language; it felt strange forming sentences on my tongue and I wasn't used to the words."
But once she became accustomed to the taste of gelato, she started to crave it. She savored Italian culture too.
"I began to wander and explore every nook and cranny of Florence, always with a gelato in hand," she said. She tried to pick a favorite place in the city from among such highlights as the Duomo, Piazza Michelangelo, Santa Croce and Piazza della Signoria. She also attempted to choose a favorite gelateria and flavor, sampling everything from nocciolosa (hazelnut) and fragola (strawberry), to limone and caffe.
By the semester end she discovered she could not. Like Florence, they each had a fantastically different taste. Gelato and the Italian language no longer felt strange on her tongue. Now back in the U.S., she misses the unique flavors of Italy and her people.
"Gelato taught me to do something different, taste something new, and probe and prod every corner of an unknown place to fully understand it," she wrote. "I also learned not to get upset if some nocciolosa runs down your hand because sometimes things get messy and confusing, especially while living in a foreign country. Just lick the drips from your fingertips. Savor the taste while it lasts because although the end of the cone is the best part, sticky and sweet, it will arrive sooner than expected."
Dwyer is the daughter of Thomas and Bernadette Dwyer of Kensington, MD. She graduated from Connelly School of the Holy Child in Potomac, MD, in 2008.
While abroad, she took four classes in history and art history (her majors) and Italian language. At the end of the semester, she submitted her story to an essay and photo contest for all of the students in her program, sponsored by the American Institute for Foreign Study and Richmond University in London.
Her thoughts won first prize—and a basket of Italian food.