Tuesday, March 8, 2011
Senator Rob Garagiola Named SU's Hargreaves Fellow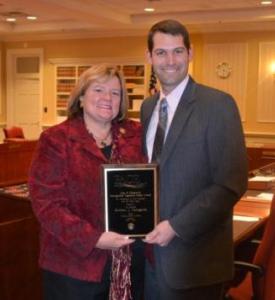 SALISBURY, MD---Maryland State Senator Rob Garagiola is Salisbury University's 2011 John R. Hargreaves Distinguished Legislative Fellow.

Designed to recognize outstanding legislators for effective and honorable public service, the award was presented by SU President Janet Dudley-Eshbach during a ceremony at the Miller Senate Office Building in Annapolis.

"Senator Garagiola's leadership represents the kind of public commitment that we aim to foster in our students," said Dudley-Eshbach. "As majority leader in the Senate, he is a staunch advocate for Maryland's residents, most notably as a champion of the environment, healthcare, and the needs of children and families. With an impressive list of accomplishments in state government, he is a dynamic young role model with whom Salisbury University students can identify. We hope his enthusiasm and involvement will inspire them to consider careers in public service."

Garagiola serves the 15th Legislative District of Montgomery County. A State Senate member since 2003, he works on many important committees including: the Finance Committee; Executive Nominations Committee; Joint Committee on Health Care Delivery and Financing; Joint Committee on Federal Relations; Joint Committee on Access to Mental Health Services; Joint Legislative Work Group to Study State, County and Municipal Fiscal Relationships; and the Joint Information Technology and Biotechnology Committee.

"Senator Robert Garagiola is an energetic leader who will engage our students with his dedication and passion for public service, and we look forward to his visit to campus later this spring," said Dr. Adam Hoffman, director of SU's Institute for Public Affairs and Civic Engagement (PACE).

Garagiola is the 10th recipient of the Hargreaves Fellowship. Past honorees include Delegate Talmadge Branch, Delegate Addie Eckardt, House Speaker Michael Busch; Senate President Thomas V. "Mike" Miller, senators J. Lowell Stoltzfus and Brian Frosh; and delegates Sheila Hixson, Norman Conway and the late Howard "Pete" Rawlings.

Sponsored by PACE, the Hargreaves Fellowship not only salutes public servants, but also allows SU students to meet with outstanding state legislators so they can learn about the responsibilities and rewards of public service.

Funding for the award was made possible by contributions to SU in memory of the late John R. Hargreaves, a former member of the Maryland General Assembly from Caroline County. As part of the fellowship program, Garagiola will meet with PACE students later in the legislative session and visit the SU campus to speak to students and community members about his service in the Senate.

For more information call 410-543-6030 or visit the SU Web site at www.salisbury.edu.