Friday, February 1, 2008
Pridgen Wins SU's First Gilman Scholarship, Studies in Ecuador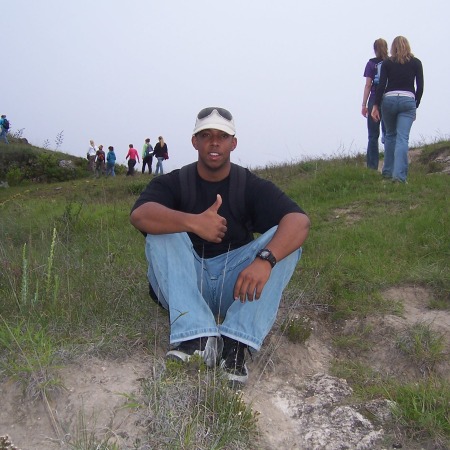 Pictured: Charles Pridgen visits the Hera Community Native Nation Reserve about 9,000 feet above sea level in the Andes Mountains of Southern Ecuador.
SALISBURY, MD---Salisbury University junior Charles Pridgen, Jr., an international business and finance double major, recently became the first SU student to be awarded the Benjamin A. Gilman Study Abroad Scholarship. He was one of only 500 students nationwide selected for a Gilman Scholarship during 2007-2008.
The Gilman Scholarship is granted by the U.S. Department of State to undergraduate students studying abroad for a minimum of four weeks. Pridgen used the $4,000 scholarship to pay for SU's Intersession in Ecuador program during winter break. Now in its 13th year, the SU program is four weeks long and involves travel and study throughout the small Andean country in South America. Supported by SU's partner institution in Ecuador, The Centers for Interamerican Studies, the program offers coursework in Spanish from introductory to advanced levels. The winter 2008 program also offered communication arts classes in English.
This was Pridgen's first trip outside the United States. "The best part of traveling and studying abroad was being able to experience a culture other than my own, and immerse myself in it," he said.
One of the program highlights is the opportunity to live for three weeks with an Ecuadorian family in Cuenca, a city with a population of 400,000. Pridgen found this immersion into Ecuadorian society and culture insightful and enjoyable. "I had a wonderful family who made me feel at home while helping me with my acquisition of Spanish," he said.
The Intersession in Ecuador program also involves travel and study in Ecuador's three main cities: Quito, Guayaquil, and Cuenca. In addition, it takes students to smaller communities high in the Andes Mountains and on the sunny Pacific coast. Pridgen found the quiet fishing village of Canoa, where the program spends its final two days, to be particularly attractive. "It was the most beautiful and relaxing place I have been in my life, and it provided a wonderful environment to reflect on my experiences in Ecuador," he said.
A native of Ellicott City, MD, Pridgen is the son of Charles Sr. and Sherrie Pridgen. He is a 2005 graduate of Mt. Hebron High School in Ellicott City, MD. On campus, he serves as a resident assistant in Severn Hall.
To be eligible for a Gilman scholarship, students must be receiving a Federal Pell Grant during that semester. Summer study abroad programs are not eligible for Gilman Scholarships.
For more information on the Benjamin A. Gilman scholarship, contact Dr. Brian Stiegler, director of the SU Center for International Education at bnstiegler@salisbury.edu, or visit the Center's web site at www.salisbury.edu/intled.