Thursday, January 31, 2008
Busch Named 2008 Hargreaves Distinguished Legislative Fellow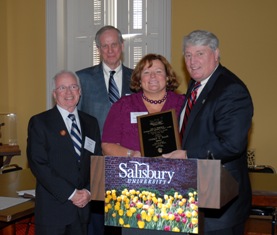 From left: Drs. Fran Kane and Harry Basehart, co-directors of PACE; President Janet Dudley-Eshbach and Speaker Michael E. Busch.
ANNAPOLIS, MD---An elected official known for building consensus in Maryland's sometimes contentious House of Delegates, Speaker Michael E. Busch was honored as Salisbury University's 2008 John R. Hargreaves Distinguished Legislative Fellow during a ceremony held in the Calvert Room of the State House on Thursday, January 31. The presentation was a part of SU's annual Day at the Legislature.
In announcing the 2008 Hargreaves Distinguished Legislative Fellow, Salisbury University President Janet Dudley-Eshbach said, "Speaker Busch's record of legislative leadership exemplifies the qualities of political leaders that this program honors: a dedication to the public good, an enthusiasm for representative government, and a commitment to civic education."
"There is no more noble profession than public service," said Busch. "The PACE program is one of the premier government leadership institutes. I am honored to be recognized for working for the citizens of our great state and to be able to share my experiences with the students of Salisbury University."
Previous Hargreaves Award honorees have been Senators Thomas V. "Mike" Miller, J. Lowell Stoltzfus and Brian Frosh, and Delegates Sheila Hixson, Norman Conway and the late Howard "Pete" Rawlings.
Sponsored by SU's Institute for Public Affairs and Civic Engagement (PACE), "The Hargreaves Award not only salutes Maryland public servants, but also has the purpose of bringing the University's students into contact with truly outstanding state legislators so that they might learn the responsibilities and rewards of public service," said Dr. Harry Basehart, co-director of PACE.
Perhaps Busch's most noteworthy accomplishment in a distinguished career in the House of Delegates has been his tireless efforts to improve the quality of health care for Marylanders, such as making prescription drugs more affordable for senior citizens and expanding health care coverage through changes in Medicaid eligibility and incentives for small business to offer health insurance plans for their employees. "Of particular interest to our young people," said Dr. Francis Kane, also co-director of PACE, "is the way he has earned respect for his fairness and consensus building. No wonder the National Conference of State Legislators called him the 'Master of Consensus.'"
In addition, Busch has consistently supported education, law enforcement and land preservation. The Annapolis and Anne Arundel County Chamber of Commerce has honored the speaker as a Legislator of the Year. The Maryland Healthy Air Act Coalition also has lauded him for his efforts in respiratory health.
The funding for the Hargreaves Award was made possible by contributions to Salisbury University in memory of John R. Hargreaves, a member of the Maryland General Assembly from Caroline County. As part of the fellowship program, Speaker Busch will meet with a group of PACE students later in the legislative session and afterward come to the SU campus to speak to students and community members.
For more information call 410-543-6030 or visit the SU Web site at www.salisbury.edu.