Thursday, January 4, 2007
President Dudley-Eshbach Featured in National Business Publication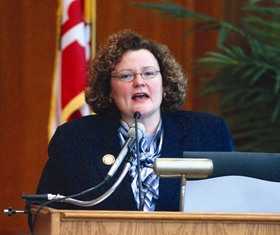 SALISBURY, MD---Salisbury University President Janet Dudley-Eshbach is featured in the most recent edition of American Executive magazine, a national publication for business leaders.
The subject of one of the magazine's regular columns, Corporate Spotlight, Dudley-Eshbach sees herself as a strategist and ambassador for SU. "An effective president is a risk-taker, a person who has dreams and ambitions for the organization and is energetic in pursuing the things that will move the organization forward," she said.
"I have learned to delegate the day-to-day operations so I can spend time working with the people—donors, legislators or business people—who will help us make those dreams a reality."
Other presidents in the Corporate Spotlight column have included the leaders of Cornell, Drexel and George Washington universities.
Last year, SU received $8 million from the Arthur W. Perdue Foundation and a $33 million commitment from the State of Maryland to construct a new home for the Franklin P. Perdue School of Business. State officials also pledged $52 million in capital funding for the construction of SU's state-of-the-art Teacher Education and Technology Center. December saw another $5.3 million donation from the estate of Lucy Tull to benefit SU Nursing and other medically related professions.
For the full text of Dudley-Eshbach's Corporate Spotlight, visit http://www.redcoatpublishing.com/spotlights/sl_12_06_Salisbury.asp. For more information call 410-543-6030 or visit the SU Web site at www.salisbury.edu.