Tuesday, February 24, 2015
Photojournalist Kaslow Speaks at SU Mar. 4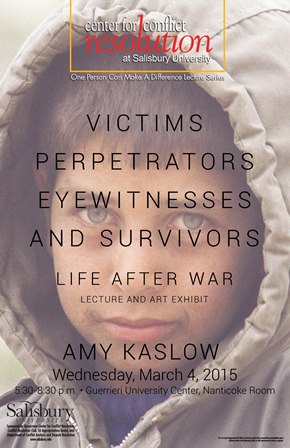 SALISBURY, MD---For more than three decades, Amy Kaslow's photographs have conveyed the stories and portraits of lives disrupted by conflict and war.

The renowned photojournalist is the next speaker in the "One Person Can Make a Difference" lecture series, hosted by Salisbury University's Bosserman Center for Conflict Resolution. Her presentation is 6 p.m. Wednesday, March 4, in the Nanticoke Room of the Guerrieri University Center. She discusses "Victims, Perpetrators, Eyewitnesses and Survivors: Life After War."

The event includes an exhibit of her works from 5:30-8:30 p.m. Light refreshments will be served.



Kaslow has covered post-conflict areas in Asia, the Middle East, Africa, Eastern Europe, and Central and South America. Her acclaimed photos in The Washington Post, Wall Street Journal, The Economist, Huffington Post and Slate, among other publications, have helped bring world events into the homes of many in the United States and beyond.

Her coverage has included South African Apartheid, the eight-year war between Iran and Iraq, massacre in Kurdistan, ethnic cleansing in the Balkans, conflict between Israel and Palestine, gang violence in San Salvador, genocide in Rwanda, the killing fields in Cambodia and the U.S.-Russian Cold War.

In nearly 20 years of experience in the policy arena, Kaslow has focused on collaboration among businesses, educators, grassroots groups and political leaders to convert at-risk populations into community assets. She also is a White House appointee to the U.S. Holocaust Memorial Museum, chairing its Collections and Acquisitions Committee.

Admission to her talk is free and the public is invited. For more information call 410-219-2873 or visit the SU website at www.salisbury.edu.