Thursday, March 3, 2016
Perdue Executive Leadership Series Continues with Sheela Murthy Thursday, March 31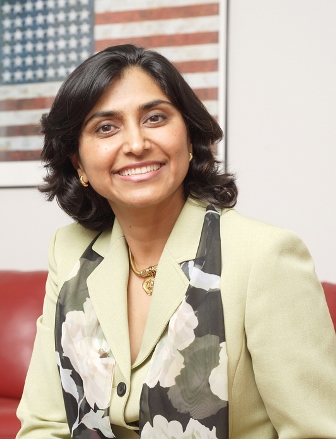 SALISBURY, MD---Internationally renowned immigration lawyer and entrepreneur Sheela Murthy, Esq., president and CEO of the Murthy Law Firm, is the next speaker in the Perdue Executive Leadership Series, hosted by Salisbury University's Franklin P. Perdue School of Business.

Her presentation is 3:30 p.m. Thursday, March 31, in Holloway Hall Auditorium.

Murthy founded the Baltimore County-headquartered law firm in 1994. With offices in Seattle and serving three major cities in India, the firm focuses on U.S. immigration law. It represents small, mid-sized and Fortune 500 companies, as well as individuals undergoing the complex U.S. immigration process.

Holding an LL.M. from Harvard Law School, Murthy has received various awards, honors and achievements. Examples include the Ernst & Young Entrepreneur of the Year (EOY). She has been a regional judge of the EOY, and has been recognized as a Maryland Innovator of the Year and one of the "50 Most Influential Marylanders."

Murthy has been featured in various national and international media, including The New York Times and Newsweek. She is a regular speaker on immigration law and leadership issues across the U.S. and internationally in areas including St. Louis; London; Salzburg, Austria; and recently Bangalore, India. She also is a past member of the American Immigration Council's board of trustees and has served in leadership roles on various prestigious boards.

Currently, she is the chairman of the board of the Maryland Chamber of Commerce and a member of The Indus Entrepreneurs board of directors in Washington, D.C.

Murthy believes that America is the land of opportunity, including for immigrants across the globe. In her work, she helps them achieve their great American dream of living and working in what she considers the greatest nation on Earth. She has been called a passionate and dynamic speaker who enjoys motivating and inspiring others to grow their leadership skills.

Sponsored by the Perdue School, admission to her talk is free and the public is invited. For more information call 410-543-6030 or visit the SU website at www.salisbury.edu.