Thursday, March 3, 2016
SU Graduate Student Teaches History Lesson Wearing Authentic WWI-era Uniform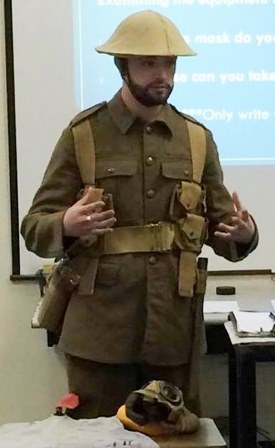 SALISBURY, MD---It's not every day that a World War I soldier (or reasonable facsimile thereof) steps into a classroom — but that's exactly what happened recently at Parkside High School.

Salisbury University graduate student Ned Dressel is committed to a career teaching history to middle and high school students. Interning with Parkside history teacher Chris Grande, he recently dressed in an authentic WWI-era U.S. Army enlisted soldier uniform to help ninth-grade students better understand the war.

He borrowed the uniform, complete with period gas mask, from a neighbor who is a WWI reenactor and collector. The helmet was worn during the Battle of the Somme, in France, a century ago.

Earning his B.A. in history from SU in 2012, Dressel has a special interest in military history, from ancient Greece to the 20th century. He is currently pursuing his M.A.T.