Monday, November 7, 2016
Paolisso Presents Chesapeake Distinguished Lecture November 9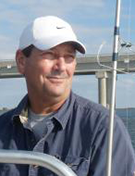 SALISBURY, MD---Salisbury University's fall Environmental Studies Colloquium Series culminates with this semester's Chesapeake Distinguished Lecturer, Dr. Michael Paolisso.

His presentation, "Culture and Resource Management of the Chesapeake Bay," is 7 p.m. Wednesday, November 9, in Henson Science Hall Room 243.

Interim chair of the University of Maryland, College Park's Anthropology Department, Paolisso has conducted environmental fieldwork in Venezuela, Honduras, Ecuador, Kenya, Nepal and the U.S.

For the past 15 years, his research has focused on the human dimensions of a range of environmental issues confronting the Chesapeake Bay. These include natural resources management (particularly fisheries and agricultural lands), water pollution, restoration, social justice, socio-ecological resilience and climate change.

Through these studies, he seeks to demonstrate how cultural models of the environment have a direct bearing on the use and management of natural resources, and how these models can be used to improve stakeholder understanding, as well as dialogue and collaborations in addressing environmental issues.

Sponsored by SU's Environmental Studies Department and Edward H. Nabb Research Center for Delmarva History and Culture, admission is free and the public is invited.

For more information call 410-543-6030 or visit the SU website at www.salisbury.edu.