Thursday, February 23, 2017
Niyaz Presents 'The Fourth Light Project' at SU April 11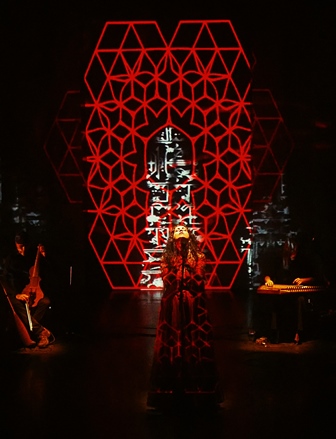 SALISBURY, MD---Electro-acoustic group Niyaz presents "The Fourth Light Project" 7 p.m. Tuesday, April 11, in Salisbury University's Holloway Hall Auditorium.

Free tickets are available at the Guerrieri University Center Information Desk beginning Friday, March 3, for SU students, faculty and staff. Tickets are available to the surrounding community beginning Friday, March 10. Limit is two per person.

Blending acoustic and electronic music, the group mixes poetry and folk songs from its native Iran and surrounding countries with 21st-century global and trance music in its latest album, The Fourth Light.

"The Fourth Light Project" evolved from this release into a cutting-edge, immersive and multisensory experience. In collaboration with interactive designer and visual artist Jerome Delapierre, the live musical and scared dance performance is presented with interactive technologies, and advanced projection and body-mapping techniques that respond to sound and movement in real time.

The Huffington Post has described Niyaz as "an evolutionary force in contemporary Middle Eastern music." National Public Radio's Weekend Edition has called its music "an interesting blend of modern electronica with traditional folk songs and Sufi mysticism." Billboard lauded Niyaz as "an alluring combination of medieval Persian exoticism and beats that are state of the art."

Support is provided, in part, by a grant from the Salisbury Wicomico Arts Council, awarded by the Maryland State Arts Council and the National Endowment for the Arts.



The Cultural Affairs Office sponsors the performance. For more information call 410-543-6271 or visit the SU website at www.salisbury.edu.