Wednesday, February 22, 2017
SU Faculty Accept MD-HEN Art Donation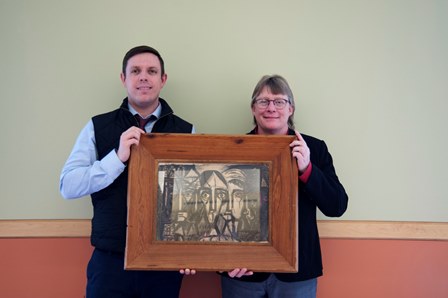 SALISBURY, MD---Drs. Sandy Pope (left) and Diana Wagner (right) of Salisbury University's Education Specialties Department recently accepted a donation of artwork for the Maryland Holocaust Educators Network (MD-HEN).

The lithograph, Among Those Who Stood There, was painted by Abraham Rattner circa 1944. It was donated by Dr. Gordon Peacock, faculty emeritus of the University of Texas at Austin (UT Austin), and his wife, Georgine. Both served on the UT Austin College of Fine Arts Dean's Advisory Council.

Their personal art collection includes theatre and Inuit prints, masks and sculptures, many of which reflect their time in Canada. There, Dr. Peacock founded programs at several schools, including the country's first B.F.A. in acting training and M.F.A. in directing and design, all at the University of Alberta.

Rattner, the son of a rabbinical student-turned-baker who fled Czarist Russia for the United States, served in the U.S. Army during World War I, suffering a chronic battle-related back injury. Following the war, he spent two decades in Paris before returning to the U.S. on the eve of World War II.

At that time, he incorporated imagery into his work that included torture and crucifixion as a commentary on the brutality in the world and what he considered an appalling indifference by most Americans to the persecution of Jews in Europe. Among Those Who Stood There evokes these themes.

Following his wife's death in the late 1940s, Rattner re-affirmed his dedication to Judaism. Religion became a central focus of his art until his passing in 1978.



Overseen by Wagner and Pope, the Maryland Holocaust Educators Network is supported by The Olga Lengyel Institute for Holocaust Studies and Human Rights in New York as one of only 12 such programs in the nation. The network provides materials and seminars to educators on methods for teaching the sometimes difficult subject of the Holocaust in contexts including civil rights and social justice.

MD-HEN hosts a Summer Institute for Teachers from June 25-30 at SU. For registration and more information visit http://www.salisbury.edu/educationspecialties/mdhen.