Monday, September 12, 2011
Messick, Ramses Earn USM Regents Staff Awards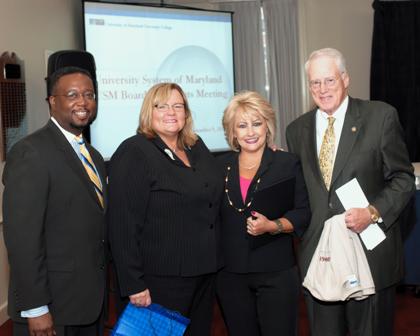 From left: USM Board of Regents Chairman Orlan M. Johnson, SU President Janet Dudley-Eshbach, honoree Sandra Ramses and USM Chancellor William M. "Brit" Kirwan.

SALISBURY, MD---At Salisbury University's Edward H. Nabb Research Center for Delmarva History and Culture, Donna Messick has been known as "the glue that holds the center together." In the Biological Sciences Department, Sandra Ramses is described as the "go-to person" for everything from budgets to raising funds for student travel.

Both recently received one of the University System of Maryland's highest honors: the Board of Regents Staff Award for Excellence.

Messick earned kudos for Extraordinary Public Service to the University or the Greater Community. For more than a decade, she has served as the "face" of the Nabb Research Center as its administrative assistant. She also was the secretary for the center's Teaching American History Grant Project with the Wicomico County Board of Education. In these roles, she proved herself to be an invaluable resource for the center, writing grants, organizing workshops and fundraisers, and helping to prepare research materials and exhibits.

SU President Janet Dudley-Eshbach praised Messick's ability to take on many tasks, even those that did not fall directly within her job description: "As with all of our University budgets, the Nabb has been severely constrained by small and shrinking resources, coupled with a growing audience of constituents to be served. Ms. Messick's ability to fulfill many roles within the center, and her willingness to take on additional assignments and to work over and above her regular hours to get the job done, are instrumental in the center's and the University's success."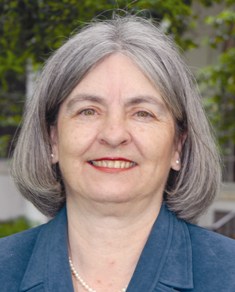 Donna Messick

Ramses won recognition for Exceptional Contribution to the Institution and/or Unit to Which the Person Belongs. The Biological Sciences Department's program management specialist for more than 20 years, she oversees the department's budget and faculty schedules, among many other administrative duties. She also pioneered an alumni registry link exclusive to the department, has coordinated a T-shirt sale fundraiser to secure student travel funding and even helps fix minor computer problems.

Dudley-Eshbach called Ramses "the authority on the department's day-to-day operations and budget. She has clearly provided leadership through her important sense of responsibility and community. Moreover, her creative activities have served to reward faculty, staff and students in the department and have assisted in building a motivated, cohesive team in Biology."

Nomination letters for both Messick and Ramses illustrated the positive influence they have across campus—and beyond.

"Donna clearly understands the mission of the Nabb Center—to educate students and to support the needs of community researchers," said Dr. Ray Thompson, the center's director. "She is visionary in recognizing the long-range needs of Nabb." These include its recent addition of a two-room gallery, which Messick coordinated.

Dr. Stephen Gehnrich of the Biological Sciences Department said: "As a result of her friendly and considerate personality, Sandy has developed excellent relationships with people all across the campus, and she is able to get things done because people like her, respect her and are happy to work with her. This has been a tremendous benefit not only to our department, but to the many faculty, staff and students who come to Sandy for help."

Messick was named SU's Employee of the Year in 2008. At the Nabb Research Center, she has written or assisted in writing grants from the National Endowment of the Humanities, Maryland Historical Trust, Community Foundation of the Eastern Shore and Institute of Museums and Library Services, among others. Her transcriptions include certificates of freedom from Somerset County, and manumissions and sales of slaves in Somerset and Worcester counties. She also has transcribed and edited church records from the center's collection.

Ramses earned her first Regents Staff Award in 1992. In 2000, she was nominated as an outstanding staff member for SU. She was an Employee of the Month in 2010. Ramses has represented the Biological Sciences Department in the Muscular Dystrophy Association's Lock-Up event, raising more than $1,000 for the MDA. She is a Sunday school teacher's assistant for fourth- and fifth-grade children at Christ United Methodist Church in Salisbury.

For more information call 410-543-6030 or visit the SU Web site at www.salisbury.edu.