Tuesday, May 7, 2013
LSCCRC Commemorates Child Care Provider Appreciation Day with May 9 Workshop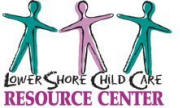 SALISBURY, MD---The Lower Shore Child Care Resource Center (LSCCRC) at Salisbury University hosts a training workshop for child care providers Thursday, May 9, to commemorate Child Care Provider Appreciation Day.
The session features Elizabeth Kelley, Maryland State Department of Education Office of Child Care director.
Traditionally celebrated the Friday before Mothers' Day, Provider Appreciation Day recognizes child care providers, teachers, school-aged program staff, child care center directors and staff, and others who work with children and are responsible for their education and care. Nationwide, an estimated 2.8 million child care providers serve over 11 million children under age 5.
Locally, the LSCCRC is leading this effort by working to increase the quality of child care available in the community and by supporting the growing needs of child care providers. The LSCCRC is one of 12 child care resource centers in Maryland and is part of the Maryland Child Care Resource Network. The center works with child care providers from Worcester, Wicomico and Somerset counties and helps them as they work to provide quality child care.
"Child care goes far beyond babysitting; today's child care provider offers incredible learning opportunities in a high quality early learning setting," said Karen Karten, LSCCRC executive director.
"Many providers are attending classes at our resource center, are enrolled in college and are keeping up to date with the latest information in early childhood education. They are not always compensated as they should be, but today's child care provider is an early educator helping to prepare our little ones for a lifetime of learning.
"Child care providers not only help ensure our children are educated and well cared for, but they help keep businesses running and employees working each day. Their work often is overlooked, but it is essential to our community.
"Our office wants to make sure that our local child care community understands how important their work is. Please remember to thank your child care provider on Child Care Provider Appreciation Day and every day!"
For more information on the workshop or the LSCCRC, call 410-543-6650.