Tuesday, May 7, 2013
Capitol Quartet Joins Salisbury Symphony Orchestra for Spring Concert Saturday, May 11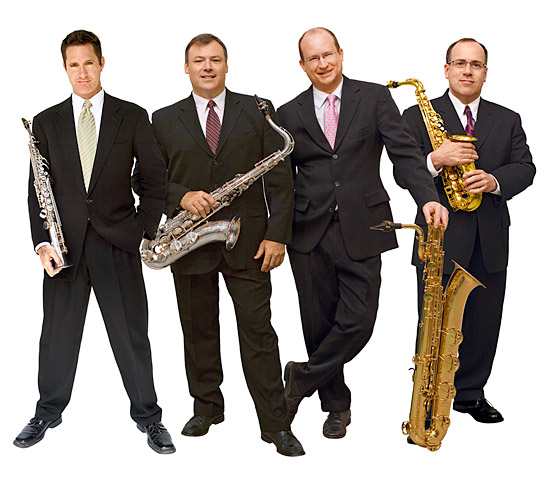 SALISBURY, MD---The Salisbury Symphony Orchestra at Salisbury University (SSO) presents its annual Spring Concert, "An Evening at the Pops," featuring the Capitol Quartet, 7:30 p.m. Saturday, May 11, in Holloway Hall Auditorium.

The concert is the culmination of SU's "Pop Rocks!" Spring Music Festival.

Comprised of saxophonists Christopher Creviston (soprano), Joseph Lulloff (alto), David Stambler (tenor) and Andrew Dahlke (baritone), the quartet has earned critical acclaim during performances with the Baltimore Symphony Orchestra, Cincinnati Pops, U.S. Air Force Heritage of America Band and U.S. Continental Army Band, among others.

Composer Marvin Hamlisch, after performing with the Capitol Quartet, said, "Their fabulous sound, professionalism and innovating program all combine for a wonderfully entertaining musical experience." The Baltimore Sun has called the group "top-notch." The Cleveland Plain Dealer said, "the Capitol Quartet are capital players."

.: Related Sites :.

.: Related News :.

With the SSO, directed by Dr. Jeffrey Schoyen, its members perform Philip Glass' Concerto for Saxophone Quartet and Aaron Copland's Outdoor Overture. Other selections include Duke Ellington's "It Don't Mean a Thing"; "Bugle Call Rag" by Jack Pettis, Billy Meyers and Elmer Schobel; Beethoven's "Für Elise"; and "Manteca" by Dizzy Gillespie, Chano Pozo and Gil Fuller.

The Capitol Quartet has released three albums: Anything Goes, Dig and Flex: Five Works for Four Saxophones.

Sponsored by Eastern Shore Coffee and Water; Livingston, Hammond & Hill Wealth Management; Peninsula Insurance; and Salisbury Wicomico Arts Council, admission is $20, $15 for seniors, $5 for children 18 and under and non-SU student ID holders.

For tickets visit www.SalisburySymphonyOrchestra.com or the Guerrieri University Center Information Desk.

A shuttle runs from the Guerrieri University Center parking lot on Dogwood Drive to Holloway Hall beginning at 6:30 p.m., returning following the concert. For more information call 410-548-5587.