Friday, September 12, 2008
Jinchul Kim Featured at KIAF 2008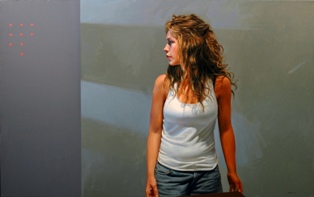 SALISBURY, MD---When 218 of the world's leading galleries showcase their works at the seventh annual Korea International Art Fair this year, Salisbury University art faculty Jinchul Kim will be among the artists represented.
The fair, scheduled September 19-23 in Seoul, is the largest international art-related undertaking in Korea.
Kim's work has been shown internationally at galleries in Korea, Japan, France, Spain and across the United States. He won first place at a self-portraits exhibition held in 2002 at the Maryland Federation of Art in Annapolis. The Daily Times recently named him its "Favorite Delmarva Artist."
Other awards include 1986 Artist of the Year for Art Journal in Seoul, Korea. He received the Phyllis H. Mason Grant, awarded in 1995 by the Art Students League of New York. He also received an Individual Visual Artist Award in 2006 from the Maryland State Art Council and is also a Visual Artist Grant recipient from the George Sugarman Foundation.
A graduate of King Se-Jong University in South Korea and the School of Visual Arts in New York City, he is currently an associate professor of art, and oversees and teaches painting and drawing programs at SU.
For more information call 410-543-6030 or visit the SU Web site at www.salisbury.edu.