Monday, December 14, 2009
Jacksons to More Than Double SSO Endowment With Planned Gift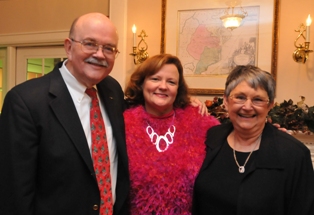 From left: Dr. Peter Jackson, SU President Janet Dudley-Eshbach and Judy Jackson.
SALISBURY, MD---Arts patrons Peter and Judy Jackson are sending a holiday gift to music lovers throughout the region: As part of a charitable remainder unitrust, they are leaving at least $500,000 to the Salisbury Symphony Orchestra at Salisbury University.
"Music is an integral part of the holiday season, and I can't think of a better time to celebrate this gift, which will make live symphonic music possible for future generations in our community," said SU President Janet Dudley-Eshbach. "Peter and Judy Jackson's love and support of music is unparalleled in our area. They are true friends of the University and the community. For this and many other gifts throughout the years, we say 'Bravo!' to two of our favorite arts patrons and community benefactors."
The gift, to be maintained by the Salisbury University Foundation, Inc., on whose board Peter serves, will bolster the SSO endowment. "We recognize the value of the arts on the Eastern Shore. Since we moved here in 2000, Judy and I have noticed a huge increase in arts events locally, particularly at the University," he said. "We want to do our part, in this case, for the symphony."
The Jacksons envision their future bequest having several potential uses: helping supply additional professional musicians for the orchestra as needed; providing funding for outstanding guest artists; and assisting the symphony in its ongoing commitment to musical growth.
The Jacksons became involved with the SSO almost immediately following their retirement to the area. In 2001, they pledged a $100,000 challenge grant, hoping to attract more people to symphonic music. It was matched in a highly successful fundraising campaign. This $200,000 was matched again by the Community Foundation of the Eastern Shore's Perdue-Kresge Challenge for the Community, ultimately leading to $400,000 for the SSO endowment.

For eight years Peter was a member of the SSO board,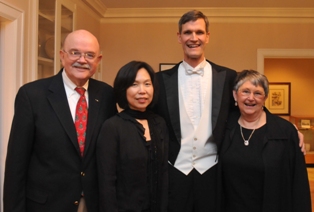 From left: Dr. Peter Jackson; SSO Concertmaster Sachi Murasugi; Dr. Jeffrey Schoyen, SSO conductor; and Judy Jackson.
serving as chair from 2008-09. He was energetic, attracting new members, revising the bylaws and using his skills in fundraising. Judy is now a board member. During these years, the SSO grew artistically and organizationally. "Tom Elliot, the first conductor, laid a great foundation for the SSO which current conductor Jeff Schoyen has been able to build upon," Peter said. "Jeff and his wife Sachi (Sachiho Murasugi, concert master) are so good at coaching the players, especially the high and low strings. The symphony has made great progress under their leadership."
The Jacksons have been enthusiastic supporters of the community-University partnership which has provided financial security for the symphony during challenging economic times. Judy feels the orchestra and other programs through the SU Department of Music are cultural and economic magnets, helping attract retiring music professionals to the community—musicians who want to retire but don't want to give up playing.
The Jacksons also think the symphony is important for music students. Their daughter, Sarah, while attending the University of British Columbia, was able to play periodically in the Vancouver Symphony because her university teacher was principal flute for that orchestra. "Students were able to fill in and have a remarkable music experience in a formalized setting," Judy said. Sarah went on to have a professional career and now is a member of the Los Angeles Philharmonic. As SU's Music Department has grown, more students are now able to play with the SSO.
The Jacksons have been symphonic music supporters throughout their marriage. Peter served on the boards of the Edmonton and Calgary symphonies in Canada, where he worked for several years, and the Jacksons bought a box at Ottawa's National Arts Center, which they used to introduce potential patrons to the symphony there.
Both came from families where music was valued. Judy's singing was encouraged at home, and Peter, who plays double bass, used to perform in a family quartet with his parents and brother. "I'm not sure if we were good, but we enjoyed it," he said. Judy now sings with the Salisbury Chorale, and Peter, who also loves jazz, has taken a blues class at SU.
The two established the Peter and Judy Jackson Music Performance Fund, which has underwritten concerts at the Wicomico Public Library and has helped bring such groups as the American Spiritual Ensemble to Salisbury.
In Salisbury's music community, the Jacksons are well known for their passion and generosity, giving of their time and energy. "People think of us as either great helpers or terrible interferers," Peter said. In the SSO program, however, they're listed as "Angels."
For more information, visit www.salisburysymphonyorchestra.org or www.salisbury.edu, or call 410-543-6030.
* * *
A THANK YOU FROM DR. JEFFREY SCHOYEN, SSO MUSIC DIRECTOR
"I've always believed that the Salisbury Symphony Orchestra is a great example of what can be achieved when there is a vital partnership between a university and the community. The Jacksons' generous gift will enable the SSO to continue to bring symphonic music to our community well into the future. Today's young audience members will have the opportunity to hear the Salisbury Symphony Orchestra when they are adults and I am thrilled that Peter and Judy Jackson have chosen to support the orchestra in this way," said Dr. Jeffrey Schoyen, conductor of the SSO.