Monday, May 21, 2012
J-1 Scholar Explores India's Sustainable Development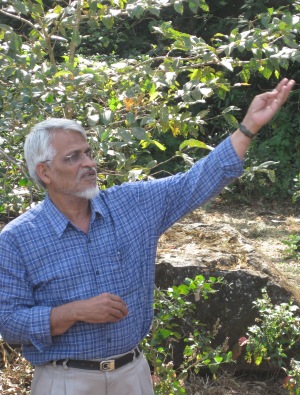 SALISBURY, MD---Is sustainable development possible in India?
"With a population of over one billion, the country will literally strip the world bare, if it develops in a traditional resource-intensive fashion," said Dr. Michael Lewis of SU's Environmental Studies program. "India has to come up with a new model."
Dr. Praveen Saptarshi explores such issues, and the applications for the United States and other modern societies, when he visits Salisbury University as a J-1 Scholar this summer. His course, India: Sustainability and the Environment, is June 4-29.
"India is a laboratory for the future of the world," Lewis said. "It is trying to develop as a sustainable modern society while dealing with questions of religious, cultural and linguistic diversity — and all in the context of democracy and freedom."
Saptarshi is currently a sustainability management professor at the Indian Institute of Cost and Management Studies and Research in the city of Pune. Previously he taught environmental science at the University of Pune and at its affiliated S.P. College. He also has taught SU students during two study abroad trips led by Lewis.

A lifelong educator, Saptarshi also has experienced the dichotomy between India's poor rural villages and thriving cities. He and his wife, Rama, who will join him in the U.S., started a grass hut school in a rural village that has now grown into a K-Junior College facility.

Saptarshi's introductory course at SU will explore topics including poverty, commercialization and the global climate. Classes are 9:30 a.m.-noon, Mondays-Thursdays in TETC 129. Community members who are interested in attending may contact Lewis at mllewis@salisbury.edu.

Dr. Valentín Serrano García of the University of Málaga in Spain was SU's first J-1 Visiting Scholar in spring 2011. He taught classes for the Department of Modern Languages and Intercultural Studies. During fall 2011, guest faculty included Maria Lopez Martin of Spain with the Information and Decision Sciences Department and Narendra Panjwani of India with the Communications Arts Department.

For more information, call 410-543-6030 or visit the SU Web site at www.salisbury.edu.