Friday, January 4, 2008
'Into Intuition' Inaugurates University Galleries' Spring 2008 Season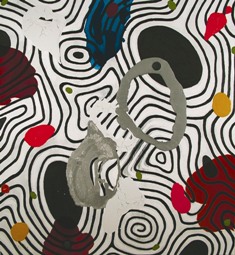 SALISBURY, MD---Six of Philadelphia's leading artists exhibit their works at Salisbury University January 18-April 6 as "Into Intuition: Towards a Redefinition" opens the University Galleries' 2008 season.
Artists include David Foss, James Fuhrman, Michelle Marcuse, Antonio Puri, Tremain Smith and Vincent Romaniello. The exhibit, in the University Gallery of Fulton Hall, is curated by Alexandra Nemerov of New York. Two receptions are 6:30-8 p.m. Thursday, February 21 and Thursday, April 17, in conjunction with the American Visionary, Alex Grey film screening series.
"Our contemporary moment is defined by a saturation of simplified, accelerated information," said Nemerov. "Offering both artist and audience the opportunity to juxtapose daily experience with imagery existing both within and beyond it, the exhibition functions as a source of contemplation and rejuvenation."
Holding an M.F.A. in sculpture from the University of Colorado, Foss' sculptures and paintings have been shown in that state, as well as Texas and much of the mid-Atlantic region. His most recent solo exhibit, "Present Tense," was held at Philadelphia's Gallery Siano in 2007.
Fuhrman's sculptures have been exhibited in Scotland and Brazil, as well as Pennsylvania, Maryland and New York. He also has been commissioned for several municipal works in Miami and Philadelphia.
Many of Marcuse's paintings are influenced by her childhood in South Africa during the Apartheid era. In her studio, she has combined the ancient technique of encaustic painting (using pigment-infused hot wax as the medium) with the new technology of digital imaging to create unique visuals. Her pieces are included in collections owned by the U.S. Embassy in Bangkok, as well as the State Museum of Pennsylvania.
Puri's paintings have been displayed in galleries throughout the mid-Atlantic region. His pieces appear in collections in South Africa, Pennsylvania, New Jersey and Florida. His most recent solo exhibit, "Push & Pull," was shown at Rosemont College in 2007.
Smith's paintings are included in the Metropolitan Museum of Art's collection, among others. Participating in exhibits throughout the East Coast and Chicago, her most recent solo exhibition appeared in Rosemont College's Lawrence Gallery in 2007.
Romaniello's paintings, which feature gesso as a rare medium, include strong sculptural characteristics that make them appear differently when viewed from different angles. Concurrent with the SU exhibit is a solo exhibit, "Deep," which hangs at the Philadelphia Art Alliance's Satellite Gallery.
University Gallery hours are 10 a.m.-4 p.m. Tuesday-Friday, noon-4 p.m. Saturday-Sunday. The gallery is closed Mondays and Holidays. Admission is free and the public is invited. For more information call 410-548-2547 or visit the SU Web site at www.salisbury.edu.