Friday, September 15, 2006
'Instigators of Memory' Exhibit Comes to SU October 6-November 5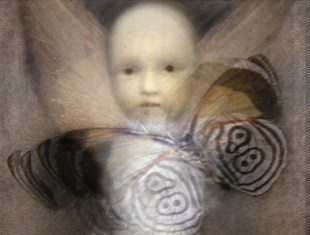 SALISBURY, MD---Four of the United States' most unique women artists combine to present the exhibit "Instigators of Memory" October 6-November 5 in the Salisbury University Gallery of Fulton Hall.
This exhibition brings together the works of artists Elizabeth Austin, Marian Bingham, Gail Hillow Watkins and Ann Weiner. They create a broad range of media from holographic steel and foil to more traditional oil paintings. All four artists have been praised as embracing uncharted artistic terrain.
Austin presents pieces from her Nocturnes series, which involve the use of metallic foils and powders and are often of natural settings. She begins each work by drawing on paper that protects clear acrylic sheets, then incises the contours of her subject into the sheet before applying acrylic paint. Finally, holographic foils are layered onto the sheet.
Bingham presents works from her Dream Horse Series, utilizing a dynamic brushwork and glazing technique. Bingham is influenced by ancient Chinese art and styles, and brings this influence to the forefront of her art.
Watkins presents collaged abstract paintings, utilizing newspaper columns and comics, and enclosing them in what she describes as a "nearly archaeological matrix of paint and glue."
Weiner presents a wide array of work from bronze sculpture to delicate lenticular, or holographic, imagery. Photo-based paintings and assemblages that make use of antique dolls are also exhibited.
Gallery hours are 10 a.m.-4 p.m. Tuesday–Friday, noon-4 p.m. Saturday-Sunday. The gallery is closed Mondays and holidays. Screenings of the PBS documentary series Art 21: Art in the Twenty-First Century coincide with the exhibit 6-8 p.m. Wednesdays from October 11-November 1 in Fulton Hall Room 111. A short discussion and reception for "Instigators of Memory" follows each film screening.
The exhibition is organized by Katharine T. Carter & Associates, the University Galleries at Salisbury University and Frostburg State University. The exhibit and screenings are free and the public is invited. For more information call 410-548-2547 or visit the SU Web site at www.salisbury.com.