Thursday, August 27, 2015
Habay Earns SU's First Competitive National Institutes of Health Grant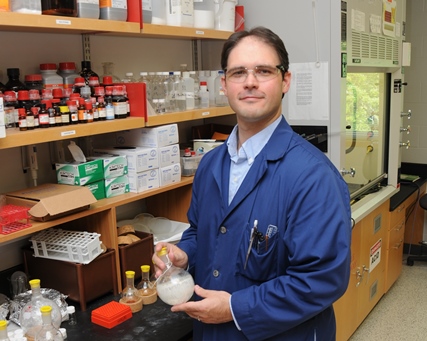 SALISBURY, MD---Dr. Stephen Habay of Salisbury University's Chemistry Department has earned the campus' first competitive grant from the National Institutes of Health (NIH). The $290,538 Academic Research Enhancement Award (AREA) will expand research opportunities for undergraduates and enhance SU's laboratory spaces with new equipment.
"This grant will have a significant impact on the research environment of the department and the University, helping expand our capacity to prepare students for graduate school and careers," said Dr. Karen Olmstead, dean of the Richard A. Henson School of Science and Technology. "Salisbury's reputation for providing an excellent student-centered education, including research opportunities at the undergraduate level, continues to grow thanks to the hard work and mentorship of faculty like Dr. Habay."
Habay compares his work as a synthetic organic chemist to being a "molecular architect." He said, "We design and build complex molecules from simple building blocks that you can purchase or make in the lab." His project involves developing methods for the synthesis of fused-bicyclic alkaloids, a special class of compounds that show promise in combatting illnesses ranging from cancer and migraines to hypertension and malaria.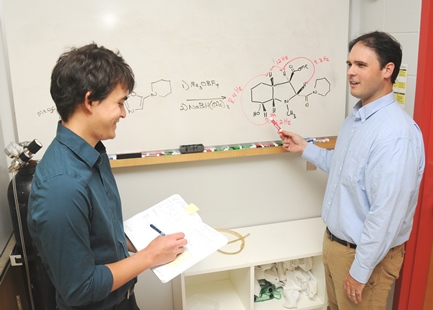 "We have discovered a new way of making these molecules that is quick and efficient from building blocks called oxazolium salts," he said. "Despite the wide availability of these salts to chemists, they have never been used to make alkaloids in this way." Many alkaloids are derived from nature and available only in small quantities. Producing larger amounts synthetically in a lab allows for more research into their medicinal properties.
"If you can make structures like this cheaply and efficiently, then you can quickly develop libraries of compounds that can be screened for their ability to treat diseases," Habay said. He hopes to send molecules that he and his students synthesize to the NIH for testing.
The best part of the project, Habay said, is being able to involve more students. "I'm excited to engage students in substantive work that will benefit them in the long run, especially those who are entering chemistry or biomedical fields." The grant will fund up to 15 paid positions over the next three summers, with other students involved during the semesters.
The hands-on work in the lab teaches students problem-solving and critical-thinking skills that are applicable to any field they enter, Habay said. The students also will have the opportunity to publish and present on their results at scientific meetings.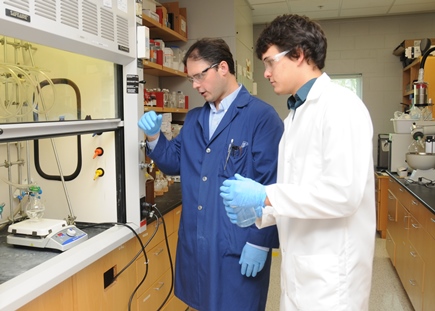 "The chemistry is fun, interesting and important, but our real purpose here is always teaching ― using research like this to help students learn," Habay said. This idea aligns with the purpose of the AREA grant to expose students to meritorious research while strengthening the research environment at the institution.

The grant will enable the Chemistry Department to purchase chemicals and supplies for the proposed research, as well as new major, state-of-the-art instruments for use in teaching labs and research courses.

"We are extremely excited for Dr. Habay and SU," said Dr. Clifton Griffin, dean of Graduate Studies and Research. "Stephen has secured a prestigious grant that will provide students a great opportunity to participate in cutting-edge research and help pave the way for additional federally funded projects at our University. Student engagement and immersion in research projects such as this is a very empowering aspect of teaching and learning."

SU's current summer research program includes opportunities funded through a private Guerrieri family endowment and three National Science Foundation grants. In addition to hosting an annual student research conference, Salisbury is the only school in Maryland to host (twice) the National Conference on Undergraduate Research.

Habay earned his Ph.D. in organic chemistry from the University of Pittsburgh in 2005. He completed postdoctoral work at the University of California, Irvine, before joining SU's faculty in 2008. He was also a visiting scholar in the University of Delaware's Department of Chemistry and Biochemistry in 2014.

Habay earned an earlier grant from Research Corporation for Science Advancement valued at over $40,000 for similar work that sought to produce bicyclic alkaloid molecules more easily and in greater quantities for potential therapeutic uses.

For more information call 410-543-6030 or visit the SU website at www.salisbury.edu.