Tuesday, September 25, 2007
Emerys Will $540,000 Historic Farm to SU Foundation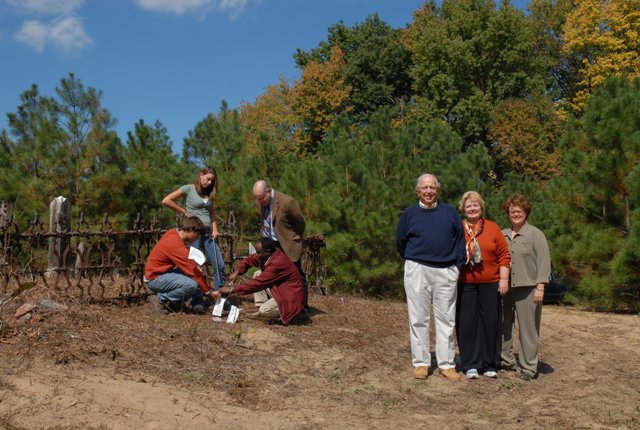 Pictured (from left) at the cemetery on the Calloway Family Farm are Salisbury University biology students Chris Mentzer and Laura Fletcher; Dr. Samuel Geleta of SU's Biology Department; Dr. Michael Folkoff, interim dean of the Henson School of Science and Technology; Charles Emery, SU Foundation board member; Barbara, his wife; and Dr. Rosemary Thomas, vice president of University Advancement and executive director of the SU Foundation.
SALISBURY, MD---The 135-acre family farm belonging to Charles Emery, a Salisbury University Foundation board member, has passed down through five generations. The birthplace of both his mother and grandmother, he recalls spending many summers there.
Recently, Emery and his wife, Barbara, decided to use the land to help future generations of Salisbury University students. They willed the farm, valued at more than $540,000, to the SU Foundation, asking that all proceeds be used to establish the Charles and Barbara Emery Scholarship.
"This generous planned gift is another major step toward Salisbury University's Campaign 2012 goal of $30 million," said Dr. Rosemary Thomas, vice president of University Advancement and executive director of the SU Foundation. "With scholarship fund-raising being the lion's share of the campaign effort, the Emerys' generosity has a significant effect in reaching this goal. As we continue to gain momentum in our campaign, the Emery gift is a testimony of their leadership and dedication to the culture and history of Delmarva."
"I love the Eastern Shore and the Lower Shore in particular," Emery said. "My wife and I feel that Salisbury University is vital to the long-range economic, social and cultural well-being of the region. It is our hope that this support will better enable the University to perform that service to the residents of this very special area."
"This is a special gift from a special family," added Kim Nechay, director of development for University Advancement and assistant director of the SU Foundation. "Not only will this gift create a fabulous scholarship program in the future, but the impact it has on the research capacity of our current students and faculty is tremendous. We at Salisbury University are so grateful to have friends like the Emerys."
A member of the SU Foundation board of directors since 2002, Emery said the "Calloway Family Farm" is located on Athol Road in Mardela Springs. The mainly wooded property is protected by a conservation easement through the Lower Shore Land Trust.
"It's preserved against development--only two houses can be built on it," Emery said. "It's unique land because it's been in my family for so long. I've always loved the land and I wanted it to go someplace special."
Currently, the farm is being used for research by students and faculty in SU's Department of Biology, as well as Geography and Geosciences. "It seems like a good place for certain kinds of research," Emery said. "There's a cemetery on the property and it has both tidal and non-tidal wetlands, and marsh that I thought would be of interest to students."
According to Dr. Samuel Geleta, one of the biology professors, the cemetery is one of four locations students have examined while researching the impact of human activity on soil quality in the region. Through soil sampling, they estimate that two to three feet of soil has washed away over the years from fields surrounding the cemetery.
In addition to sharing the land with SU students and creating a lasting legacy with the institution with this planned gift, Emery has served the campus community on committees for Public Radio Delmarva (WSCL/WSDL), the University's Master Plan and the Middle States Accreditation. In addition, he has been a member of the board of directors for the Edward H. Nabb Research Center for Delmarva History and Culture since 2003.
The Charles and Barbara Emery Scholarship will be the second scholarship endowed by the Emery's. In 2005, they founded the Stephen Michael Emery Scholarship at SU to honor the memory of their son, Stephen. Designed for SU seniors majoring in Social Work with a GPA of 3.0 or greater, it was the department's first endowed scholarship.
An electrical engineer for more than 40 years, Emery is the president and owner of Cable Testing Service, Inc., in Newark, DE, which provides electrical equipment testing and consulting for the power industry. He's also been a consultant for the Dupont Company's Engineering Department and lectured at the University of Delaware for over 20 years.
A graduate of the University of Delaware, Emery earned a Master of Science in electrical power engineering at Rensselaer Polytechnic Institute in Troy, NY. In the community, he is a member of Asbury United Methodist Church, and is also involved with Peninsula United Methodist Homes.
For more information call 410-543-6030 or visit the SU web site at www.salisbury.edu.