Tuesday, September 25, 2007
SU Presents 'Little Shop of Horrors' During October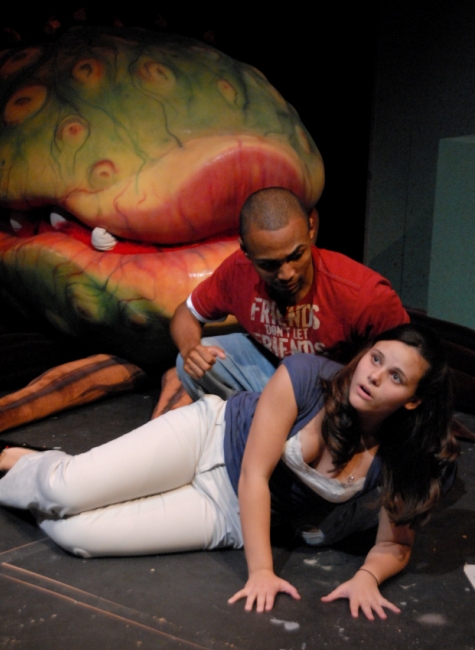 SALISBURY, MD---Don't feed the plant. That's what a nerdy florist finds out after discovering a new species nourished by human blood in Little Shop of Horrors.
Salisbury University's Bobbi Biron Theatre Program presents the classic musical October 12-14, 18-21 and 26-28, in the Black Box Theatre of Fulton Hall. Performances are 8 p.m., 2 p.m. on Sundays.
Based on the 1960s Roger Corman film, the award-winning musical Little Shop of Horrors features orphan Seymour Krelboyne who spends his days doing menial tasks at a run-down florist, dreaming of the shop's assistant – Audrey. That is, until he discovers the secret appetite of one of the plants.
The giant man-eating plant continues to grow, as does Seymour's infatuation for Audrey, but who will get her first?
Directed by Darrell Mullins, chair of SU's Communication and Theatre Arts Department, the SU production features students Shanice Jones, Alyssa Mullins, Jessica Wong, Zachary Coffman, Becky Norris, Brandan Pippens, Brian Mahoney and Keith Savage. Other members of the cast include students Hank Brannock, Brian Kuhn, Emily Jablonski, Matthew Williams, Christie Stone, Kelsey Wesenberg, Jennifer Pawenski and Megan Murray.
The performance also features SU alumna SungEun "Sunny" Kim on keyboard and several student musicians including Lee Braverman on electric bass, Zachary Caceres on electric guitar and percussionist Marc Fernandez. They are conducted by Dr. William M. Folger of the Department of Music, who also plays the keyboard.
Little Shop of Horrors also features set design by Tom Anderson, lighting design by Gerald Patt, costume design by John-James Ruetuelo and choreography by Victoria Hutchinson, all of SU's Department of Theatre and Communication Arts.
Sponsored by the Bobbi Biron Theatre Program, admission is $12, $10 for students and seniors. On Thursdays, admission is $10, $8 for students and seniors. SU ID holders receive one ticket free. The performance is not suitable for young audiences. For tickets call the SU Box Office at 410-543-6228.
For more information call 410-543-6030 or visit the SU Web site at www.salisbury.edu.