Thursday, September 19, 2013
Elephant Activist Nyamu to Speak, Lead Walk at SU September 26-27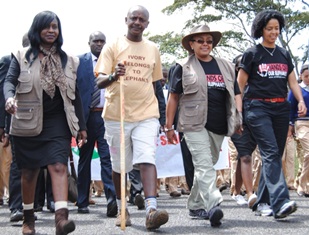 SALISBURY, MD---Jim Justus Nyamu's walk from Boston to Washington, D.C., to raise awareness of elephant poaching in Africa is taking a detour.
The founder and developer of the Elephant Neighbours Center in Kenya visits Salisbury University to discuss his "Ivory Belongs to Elephants" walk 4:30 p.m. Thursday, September 26, in the Curriculum Resource Center, Teacher Education and Technology Center Room 226. A reception follows.
On Friday, September 27, he invites members of the campus community and the public to join him during an awareness walk at SU, beginning 10 a.m. in Red Square.
Nyamu plans to end his journey on Friday, October 4, in Washington, D.C., where he will participate in the David Sheldrick Wildlife Trust's March for Elephants on the streets of the capital.
This is not the first time Nyamu has taken such a trek for elephants. In February, he walked 311 miles from Mombasu to Nairobi, followed by another 1,063 miles from Maasai Mara to Nairobi from May through June. During his walks, he speaks at schools, conservation centers and other community gathering places about the values of wildlife and the devastating effects of poaching.
Nyamu has worked as a research scientist and elephant specialist with the African Conservation Centre and represented Kenya at the International Elephant and Rhino Research Symposium. He is an active member of the Kenya Elephant Forum, Ecological Society of Eastern Africa, African Elephant Specialist Group, the International Union for Conservation of Nature's Species Survival Commission and Wildlife Clubs of Kenya.
Sponsored by Delmarva Public Radio, the Samuel W. and Marilyn C. Seidel School of Education and Professional Studies and the Richard A. Henson School of Science and Technology, admission to his talk is free and the public is invited.
For more information call 410-543-6030 or visit the SU website at www.salisbury.edu.