Thursday, September 19, 2013
Jackson Chamber Series Presents Lutenist McFarlane, Flautist Rosenfeld Thursday, September 26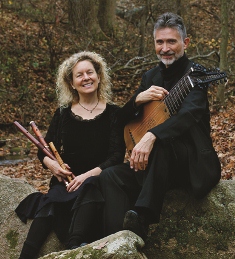 SALISBURY, MD---The Peter and Judy Jackson Chamber Music Series at Salisbury University continues this fall with lutenist Ronn McFarlane and flautist Mindy Rosenfeld 7 p.m. Thursday, September 26, in the Great Hall of Holloway Hall.

Founding members of the Baltimore Consort, they have performed on albums including One Morning, The Baltimore Consort Live in Concert and Gut, Wind and Wire. In concert, they offer a variety of Renaissance, Baroque, Celtic and original music.

McFarlane is a lutenist with over 30 recordings on the Dorian label. His original compositions are the focus of the album Indigo Road, on which Rosnefeld also performed. The CD received a Grammy Award nomination for best classical crossover album.

In addition to performing with the Baltimore Consort, Rosenfeld is a flutist with San Francisco's Philharmonia Baroque Orchestra. A resident of California, she is a frequent guest artist with other West Coast early music ensembles, dividing her time between teaching, playing and family.

Later in the semester, musician William Zeitler continues the Jackson Chamber Music Series with two evenings of performance on the glass armonica, 7 p.m. Wednesday-Thursday, November 13-14, in the Great Hall. The armonica, invented by Benjamin Franklin to mimic the tones of water glasses, debuted in 1762. Composers writing arrangements for it included Beethoven, Mozart and Franz Mesmer.

Hosted by the Cultural Affairs Office, admission to all concerts in the series is free and the public is invited. For more information call 410-543-6271 or visit the SU website at www.salisbury.edu.