Thursday, January 14, 2016
DPR Commemorates Martin Luther King Jr. Day with Special Broadcast January 18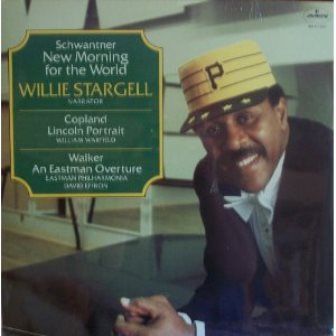 SALISBURY, MD---Delmarva Public Radio (DPR) commemorates Martin Luther King Jr. Day with a special broadcast of Pulitzer Prize-winning composer Joseph Schwantner's "New Morning for the World (Daybreak of Freedom)."
The 27-minute program will air between 3 and 4 p.m. Monday, January 18, as part of Classical Music on Delmarva with Kara Dahl Russell on WSCL 89.5 FM.
Commissioned by Dr. Robert Freeman, former director of the renowned Eastman School of Music in Rochester, NY, as a tribute to King, the work premiered live from the Kennedy Center for the Performing Arts on National Public Radio in 1983. Funded by AT&T, it featured the Eastman Philharmonia (the school's student orchestra) and, as narrator, Pittsburgh Pirates Hall-of-Famer Willie Stargell.
In his professional narrating debut, Stargell read selected texts from King's speeches and writings, which were interspersed throughout Schwantner's composition. He and the Eastman Philharmonia reprised the performance at Carnegie Hall and a handful of other select venues. The New York Times lauded the work's "mood-catching moments."
"It all came together," said Dana Whitehair, DPR general manager. "They nailed it. It was stunning. I was listening in Rochester, and I still not only remember sitting in a church (where I was setting up for a recording) and having to stop what I was doing to listen to the broadcast, but also the fact that then – and even now – I get chills whenever I listen to the work.
"It is magnificent, and Stargell's booming bass/baritone voice remains the standard by which all other performances and recordings are judged. It's an honor for DPR to be able to offer our listeners the opportunity to experience this piece."
Other King-inspired selections scheduled for that day's edition of Classical Music on Delmarva include Adolphus Hailstork's "Epitaph for a Man Who Dreamed" and Marjan Mozetich's "Freedom" in the 11 a.m. hour, Scott Joplin and William Grant Still's "Song of a New Race" in the noon hour, Alfred Hill's "The Pursuit of Happiness" symphony in the 1 p.m. hour, Hale Smith's "Ritual and Incantations" and Vincent D'Indy's "Memories" in the 2 p.m. hour, and George Walker's "Lyric for Strings" in the 3 p.m. hour.
For more information call 410-543-6895 or visit the DPR website at www.delmarvapublicradio.net.