Thursday, April 17, 2008
Campbell Discusses Civil War Medicine May 8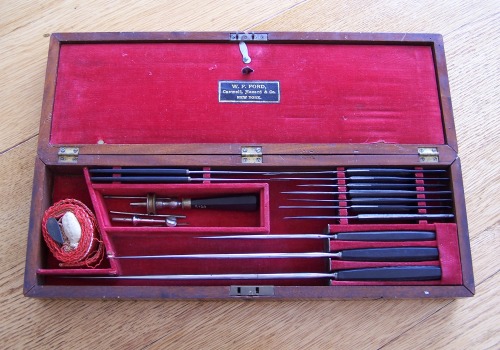 Salisbury, MD---With a death toll that rose to some 620,000 people, the United States Civil War laid the foundation for modern medicinethanks to advances made by innovative surgeons and nurses of the era. Dr. William Campbell of Salisbury University's Department of Nursing discusses the lasting impact of such practices on Thursday, May 8. His talk, "Civil War Medicine and Its Impact on Healthcare Today," is 4 p.m. in Henson Hall, Room 243.
"I will provide an overview of Civil War medicine, the people it affected, the myths, challenges, discoveries, lessons learned and lessons forgotten," Campbell said. "Many people don't realize how much it impacts healthcare today."
A Civil War "living history interpreter," Campbell is a member of the National Museum of Civil War Medicine in Frederick, MD, and actively supports their satellite museum and field hospital site at the Pry House in Sharpsburg, MD. During the talk, he will have original Civil War medical items, including an amputation set, on display.
An assistant professor in SU's Department of Nursing, Campbell is an instructor for pediatric nursing, the health assessment lab and nursing pharmacotherapeutics. He also coordinates the department's Registered Nurse to Bachelor of Science Program.
In addition to Civil War medicine, his areas of interest include ambulatory surgery, nursing student lifestyles and choices, tobacco use prevention in children, 4-H community youth development and leadership in education.
In 2006, Campbell earned his Ed.D. in educational leadership at the University of Delaware after completing his dissertation on "Improving Nursing Student Progression to RN at Salisbury University."
Campbell earned his M.S. in nursing at SU following undergraduate work at the University of Delaware. He was formerly an adjunct instructor at Delaware Technical and Community College, and on staff at Milford Memorial Hospital and Nanticoke Memorial Hospital. He is a native of Laurel, DE, where he lives with his wife, Carlene, also a registered nurse, and their two children.
Sponsored by the Richard A. Henson School of Science and Technology, the talk is free and the public is invited. Refreshments are served at 3:50 p.m., prior to the lecture. For more information call 410-543-6030 or visit the SU Web site at www.salisbury.edu.