Tuesday, October 31, 2006
CCART Hosts Annual Arts and Crafts Sale November 15-19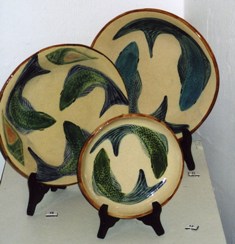 This artwork by Vezna Zidovee is just one example of the items available at CCART's annual arts and crafts sale

SALISBURY, MD---The Cavallaro Cleary Visual Arts Foundation (CCART) hosts its annual arts and crafts sale to benefit local art scholarships and awards Wednesday-Sunday, November 15-19, from 11 a.m.-7 p.m. at 207 West Main St., site of the former Hess Apparel building on the Downtown Plaza.

This year's sale and exhibition pays special tribute to late local artist Paul Kratzer. An opening reception is 5-9 p.m. Tuesday, November 14. Silent auction items are available throughout the sale.

For more information call 410-546-1068 or visit the SU Web site at www.salisbury.edu.