Tuesday, February 19, 2013
Brush is Chesapeake Bay Distinguished Lecturer Wednesday, February 20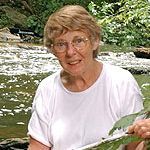 SALISBURY, MD---What did the Chesapeake Bay look like over two centuries ago, and why is that important today?

Dr. Grace Brush, award-winning professor of geography and environmental engineering, answers those questions and more as the inaugural guest in Salisbury University's Chesapeake Bay Distinguished Lecture Series. Her presentation is 7 p.m. Wednesday, February 20, in the Great Hall of Holloway Hall.

A professor of geography and environmental engineering at Johns Hopkins University's Whiting School of Engineering, Brush is known for her work on the pre- and post-Colonial ecology of the Chesapeake Bay. Her groundbreaking studies have helped scientists and geographers better understand how the clearing of forests surrounding the bay in the 18th century impacted the ecosystem. Her talk focuses on the links between human-induced landscape changes and water quality.

Earning her Ph.D. from Harvard University, Brush has received visiting professorship and fellowship honors from Harvard and Duke Universities, as well as the University of Virginia and Switzerland's Ecole Polytechnique Federale du Lausanne. She has earned the renowned George E. Owen Teaching Award, the Mathias Medal and the Estuarine Research Foundation's Odum Life Achievement Award. She also served as an exchange scientist to Czechoslovakia through the National Academy of Sciences' InterAcademy Council.

Sponsored by the Department of Environmental Studies, Charles R. and Martha N. Fulton School of Liberal Arts, and Richard A. Henson School of Science and Technology, admission to her talk is free and the public is invited. For more information call 410-543-6030 or visit the SU Web site at www.salisbury.edu.