Thursday, September 18, 2014
Bobbi Biron Theatre Program Presents 'King Lear' October 9-19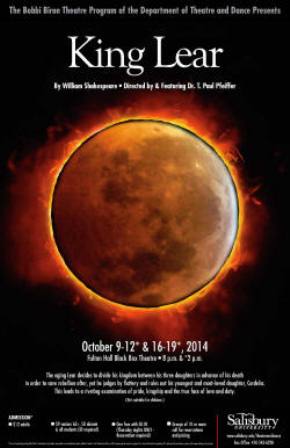 SALISBURY, MD---One of Shakespeare's masterworks comes to Salisbury University as the Bobbi Biron Theatre Program presents King Lear Thursday-Sunday, October 9-12 and 16-19.

Directed by Dr. T. Paul Pfeiffer, chair of the Theatre and Dance Department, curtain is 8 p.m., 2 p.m. Sundays.

Based on the mythological Leir, King of Britain, the play tells the story of an aging monarch who decides to abdicate and divide his kingdom among his three daughters. Following a misunderstanding, he disowns his youngest daughter, Cordelia, who becomes engaged to the King of France.



Lear's two oldest daughters, now in control of the kingdom, soon begin to undermine what little power he has left, slowly driving him insane. Servants and subjects loyal to the king are punished severely, while an invasion by France, on Cordelia's behalf, leads to a tragic ending.

Written between 1603 and its first known performance in 1607, King Lear has drawn the admiration of centuries of critics, writers and actors alike. In his book Shaw on Shakespeare, George Bernard Shaw stated definitively, "No man will ever write a better tragedy than Lear."

In fact, some believe it may be too tragic. Eighteenth-century critic Dr. Samuel Johnson claimed the tragic ending was "too painful to re-read," while 19th-century critic Charles Lamb claimed the play was "unactable." The lead role is considered by many to be one of Shakespeare's most difficult and complex, along with Hamlet, due to the character's age and slow descent into insanity.

"The role is physically and emotionally exhausting, particularly because you have to play through the real symptoms of whatever you decide the madness is," said actor Timothy West, who has played the part multiple times, including with the English Touring Theatre, in an interview with The Guardian of London.

In the title role of the SU production is Pfeiffer. Additional cast members include Zach Baker, Linda Bancroft, Katherine Boodon, Sarah Bulgaris, Matt Cox, Reed DeLisle, Timothy Dykes, John Ebert, Dawson Forbes Hill, Michael Mitchell, Michael Mott, Leah Nail, John Posner, Ben Rayne, Andres Roas, Kelly Ross, Alex Scoras, Triever Sherwood and Emily Stanton.

King Lear is suggested for mature audiences. Admission is $15, $12 seniors, students and SU alumni with ID. Tickets are available online at www.salisbury.edu/theatreanddance. Tickets also may be purchased through the SU Box Office, Fulton Hall Room 100. SU ID holders receive one ticket free for Thursday performances with advance reservations.

For more information call 410-543-6228 or visit the SU website at www.salisbury.edu.