Thursday, September 18, 2014
OAS Deputy Secretary General Albert Ramdin Speaks at SU Tuesday, October 14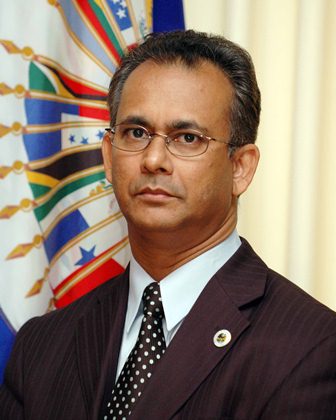 SALISBURY, MD---Ambassador Albert Ramdin, deputy secretary general of the Organization of American States (OAS) speaks 8:30 p.m. Tuesday, October 14, in the Great Hall of Salisbury University's Holloway Hall.

The career diplomat discusses the importance of hemispheric security cooperation during a presentation on "Cooperation in the Americas: Function and Organization."



Elected deputy secretary general in 2005 and re-elected in 2010, Ramdin is an expert at negotiation, mediation and conflict resolution. He has been instrumental in managing election-related conflicts in several countries and has served as chief of mission to election observation teams.

At the OAS, Ramdin also is responsible for overseeing the dialogue at the Permanent Council, which brings together representatives of the 34 democratically elected governments in the Hemisphere, as well as 68 permanent observer countries from other regions. He also is chair of the OAS's Interdepartmental Working Group on Youth, and has advocated for social and economic opportunities for youth across the Americas.

Ramdin has led and advocated for stronger private sector engagement at the OAS. During his term in office, he has played a crucial role in the development of public private partnerships between sub-regions in the Americas, with a view to stimulating and supporting economic development and providing opportunities for citizens.

Prior to his election at the OAS, the high-ranking diplomat held several prestigious positions, including posts as the Deputy Secretary General of the Caribbean Community (CARICOM); Suriname's ambassador to the OAS in Washington, D.C.; and as a senior political advisor to previous OAS Secretary General Cesar Gaviria.

Sponsored by SU's Military Science Program, Modern Languages and Intercultural Studies Department, President's Office and Center for International Education, admission to his talk is free and the public is invited.

For more information call 410-543-6030 or visit the SU website at www.salisbury.edu.