Friday, May 10, 2013
Beetle Research Earns SU Student $126K NSF Fellowship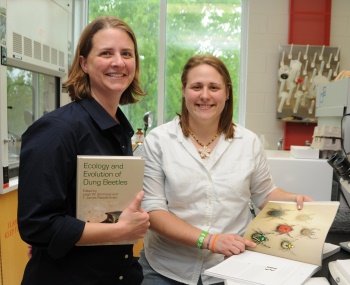 SALISBURY, MD---When Salisbury University student Mallory Hagadorn was examining piles of cow manure on an organic farm near Federalsburg last summer, she didn't quite anticipate all the impacts of the large populations of dung beetles she found.
That fieldwork turned out to be the inspiration for an expanded project that has earned her a National Science Foundation Graduate Research Fellowship valued at $126,000 to further study the beetles on farms across Maryland.
Hagadorn is at least the fifth SU student to be awarded a national or international competitive fellowship this academic year. Her three-year grant provides $30,000 in annual research stipends and covers tuition for her M.S. in applied biology from SU.
"These fellowships are tremendously competitive, so Mallory's award represents quite an achievement," said Dr. Karen Olmstead, dean of SU's Richard A. Henson School of Science and Technology. "It also is a tribute to Dr. Dana Price for great mentorship of students."
Working with Price, a faculty member in SU's Biological Science Department, and Dr. Anne Estes of the University of Maryland Medical School's Institute of Genome Sciences, Hagadorn is identifying and comparing populations of dung beetles on organic versus conventionally-managed pastures. She expects farms using more natural methods, without pesticides and antibiotics, will have more diverse and abundant beetle populations. She hopes to educate farmers about this, and also create and share a scaling system so they can easily monitor the "highly beneficial" beetles in their fields.
"Dung beetles play a crucial role in ecosystems," said the Caroline County native, citing their ability to rapidly bury and remove animal waste, thus reducing pests attracted to it; aerate soil and cycle nutrients; and help maintain an overall natural balance.
Combining ecology with her growing interest in population genetics, Hagadorn's project also includes DNA sequencing for the microorganisms that live symbiotically in the beetles' guts. She wants to provide a further understanding of how they influence the functions and the distribution of the species.

"Mallory is a role model for many students; her enthusiasm is contagious and she has become a valued colleague in my lab," Price said.

A first generation college student and self-described "science junkie" who grew up "chasing squirrels, catching fireflies and coming home covered from head to toe in mud," Hagadorn earned her B.S. in biology from SU in December 2012.

As an undergraduate, she received several student research stipends through the Henson School, which she used in part to create a "Quick Guide" for identifying Maryland's Scarab beetles. Her preliminary beetle project last summer, "Not all Dung is Created Equal," garnered a $4,500 grant from SU's Guerrieri Research Fund.

"My family has encouraged my academic endeavors, but I've also had a lot of support from my department," Hagadorn said, recalling their care and concern when her father unexpectedly passed away last year. At least five faculty members also took time to read and provide "constructive criticism" on her NSF application, she added.

In existence since 1952, the NSF fellowship program is the oldest in the country to offer direct support to graduate students in science, technology, engineering and mathematics (STEM) fields. Recipients pursue research-based master's and doctoral degrees at accredited U.S. institutions.

Hagadorn's NSF award letter attributed her selection to her "outstanding abilities and accomplishments" and her "potential to contribute to strengthening the vitality of the U.S. science and engineering enterprise."

Dr. Kristen Walton, director of SU's new Nationally Competitive Fellowships Office, explained: "Salisbury University students continue to display great academic success, demonstrating that the rigor and support found here can absolutely prepare them for greater accomplishments. They are contending with students from larger research institutions and private campuses for these awards. We want to assist any student who is interested in exploring such opportunities."

Hagadorn is the recipient of the 2013 Biology Department Faculty Award and the 2012 Dhimitra S. Davenport-Hopkins Scholarship. She hopes to finish her master's by May 2015.

For more information call 410-543-6030 or visit the SU Web site at www.salisbury.edu.
/eof