Monday, March 12, 2012
Barrueco Inaugurates Spring 2012 Peter and Judy Jackson Chamber Music Series Tuesday, March 27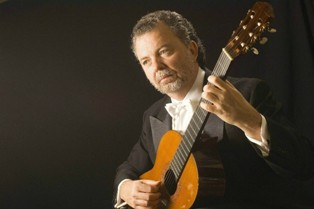 SALISBURY, MD---This spring's Peter and Judy Jackson Chamber Music Series at Salisbury University opens with classical guitarist Manuel Barrueco 7 p.m. Tuesday, March 27, in Holloway Hall Auditorium.
Barrueco is internationally recognized as one of the most important guitarists of the 20th and 21st centuries. His unique artistry has been described as that of a superb instrumentalist, and a superior and elegant musician, possessing an uncommon lyrical gift.
His career has been dedicated to bringing guitar to the main musical centers of the world. In the past three decades, he has performed throughout the United States, from the New World Symphony in Miami to the Seattle Symphony, and from the Hollywood Bowl with the Los Angeles Philharmonic to New York's Lincoln Center.
His program at SU includes J.S. Bach's Suite in D Major, BWV 1007; Scarlatti's Five Sonatas; Sierra's Sonata Para Guitarra; Tárrega's Capricho Árabe; and Albéniz's "Cordoba" from Cantos de España, Op 232, No. 4 and "Torre Bermeja" from Doce Piezas Características, Op. 92.
Suite in D Major was a result of Bach's service as Kapellmeister to Prince Leopold of Anhalt-Cöthen. Because the prince belonged to the Reformed Church, where Calvinistic teachings permitted minimal music during chapel services, Bach's services as an organist were not needed. He turned his attention to secular music, leading him to consider compositions for orchestral instruments rather than organ and voice.
More than any other composer of his time, Scarlatti explored every possibility of the harpsichord. His works pointed away from music's Baroque past and on to its future, laying the foundation for the virtuosic piano writing yet to come. Barreuco translates his genius for keyed instruments into a musical treat for the guitar.
Sierra's Sonata Para Guitarra begins by following the traditional structure of expositions, while the second movement is built on a simple passacaglia motive that builds to a climax, then ends in the quiet manner in which it started. A wild scherzo precedes the ending movement, which is built on Caribbean-inspired rhythms.
Barrueco is no stranger to the works of Tárrega. He was invited to perform at a ceremony in 2009 commemorating the centenary of the composer's death in his hometown of Villarreal, Spain. Caprichio Árabe reflects the Moorish influence prevalent in southern Spain during his lifetime. Its melody is elaborated in the serenata style familiar from the works of Malats.
Many of Albéniz's compositions for keyboard are tinted with the color and sound of the guitar, so much so that he openly gave approval to guitarists desiring to make transcriptions of his works. Barrueco did just that.
Both Albéniz selections performed during the SU concert reflect aspects of life in Spain. "Cordoba" represents dawn in a small village, the music becoming more active as reflects the increased activity of the people. "Torre Bermeja" receives its name from the two towers, Torres Bermejas, which are the oldest part of the Ahambra Palace in Granada, Spain.
Admission is free and the public is invited. A free shuttle runs from the Guerrieri University Center parking lot on Dogwood Drive to Holloway Hall from 6-7 p.m. and returns following the concert.
For more information call 410-543-6271 or visit the SU Web site at www.salisbury.edu.